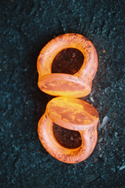 Summit Anchor Co. anchor immediately after forging.
Manufacturing and Supply
Top quality products and superior equipment – Summit Anchor Co. produces anchors and other fall protection equipment onsite at its Frederick, Maryland shop in the USA. Once our client confirms acceptance of Summit Anchor's design layouts and product details, we begin manufacturing anchorages and other equipment for the fall protection system.
Summit Anchor has hundreds of ready-for-delivery stock anchors.
For non-stock equipment, delivery may require two to six weeks for production and delivery upon client approval.
Additionally, for our clients who design their own suspended maintenance or fall protection system but still use Summit Anchor equipment, each of our products come with a professional engineer (P.E.) stamped application drawing. This stamped drawing confirms that the equipment will meet the requisite loading requirements, provided the equipment is properly installed.
However, clients in this case must:
confirm with the project engineer of record that the structure has enough capacity to support the loads from Summit Anchor's anchors or other equipment, and
ensure that the location and use of the equipment comply with local and national safety codes and standards.
Call a Summit Anchor representative today for answers regarding our services.