Sorry, we are not longer accepting applications for the Iron Workers Apprenticeship or Project Manager.
If you would like to receive updates, please email us at: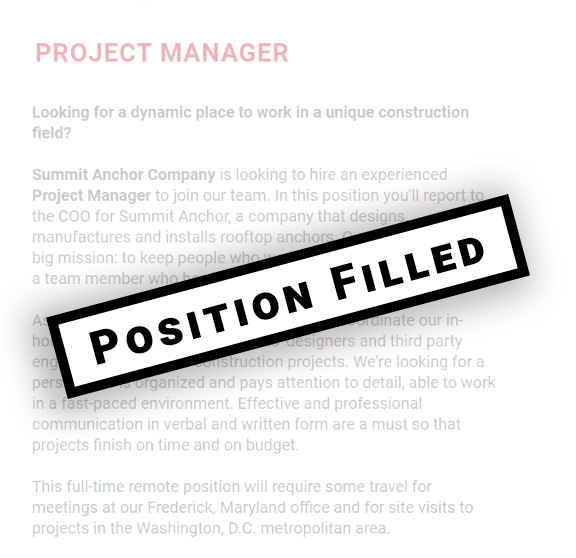 Establish project timelines in coordination with contractors
Maintain clear communication with all parties — internal departments and customers — to ensure projects meet timeline and budgetary targets
Manage subcontractors, properly submitting all forms and permits; ensuring subcontractors deliver on Scope of Work as outlined in the contract documents.
Identify work that is not within the project scope and direct sales to create and submit change orders; maintain an accurate change order log for each project
Maintain and submit a material and submittal log for each project to our customers; update SharePoint with all necessary documents and submittals
Coordinate with all necessary internal departments, including designers, production and installers, to maintain project schedules; maintain internal project reporting using CRM
Administer weekly Critical Path Meeting and disseminate relevant project information and instructions
Report project milestones weekly to the finance department for accurate billing
Attend budget meetings with all relevant parties on a bi-weekly basis
Support the sales team to promote retention of customers
Support operations and administrative functions
Technical background with experience managing projects in a construction or manufacturing setting
Strong leadership capability, demonstrating integrity and accountability
Adaptability, thrives in a fast-paced environment, navigating changing priorities and conflicting demands
Strong communication skills including excellent customer service, ability to negotiate issues, and motivate others to perform
Able to work with challenging personalities in a professional manner
Work well in a team environment, building and maintaining strong working relationships with all team members
Valid driver's license, passport, and ability to travel on occasion to meet business objectives
Strong PC computer skills, Microsoft Office Suite (Excel, Word, PowerPoint, Outlook) required
Occasional out of state travel required.
We value work-life balance and offer the following benefits to eligible employees:
To apply, email your resume to:


Why join Summit Anchor Co.?
For over 25 years, Summit Anchor has provided superior fall protection systems and suspended maintenance equipment solutions. Summit Anchor, based in Frederick, Maryland, is an industry leader that offers single source contact for design, engineering, manufacturing, installation, testing and certification of suspended access and fall protection systems.
The company assists architects, engineers, facility managers and owners to comply with OSHA requirements for building fall protection systems. Summit Anchor's innovative solutions are used extensively by high-rise window cleaners and other suspended maintenance workers across the U.S. and globally.