Summit Anchor Drawing Definitions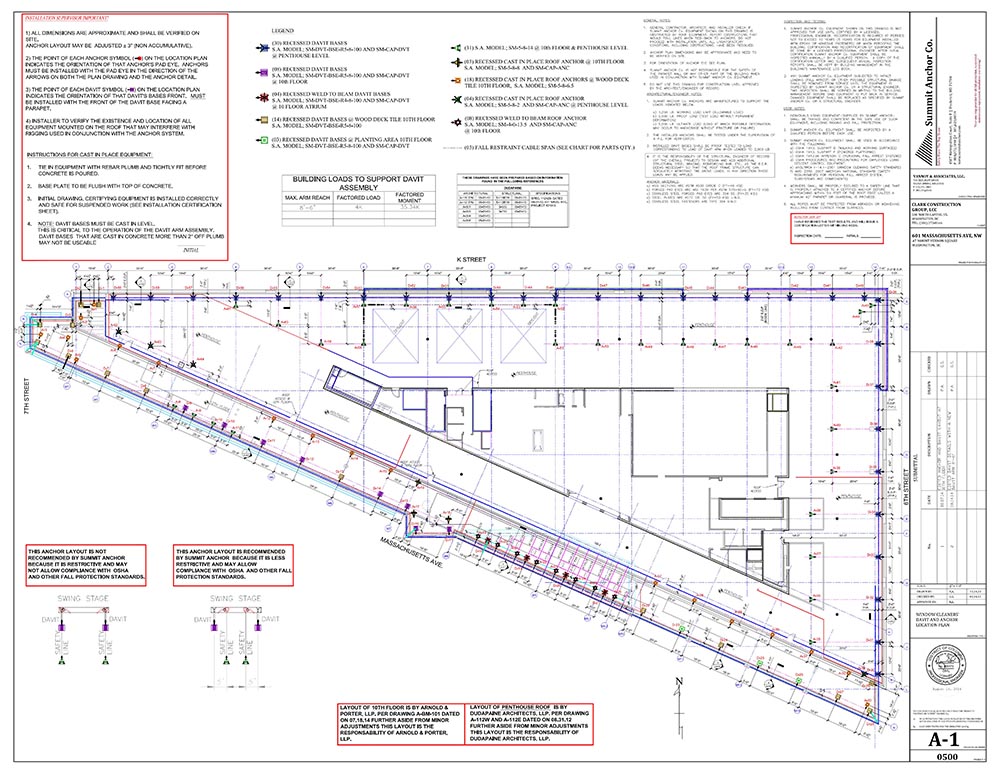 Is a set of drawings that includes the layout of the equipment, equipment details, equipment user notes, installation notes, with fabrication drawings for a specific project.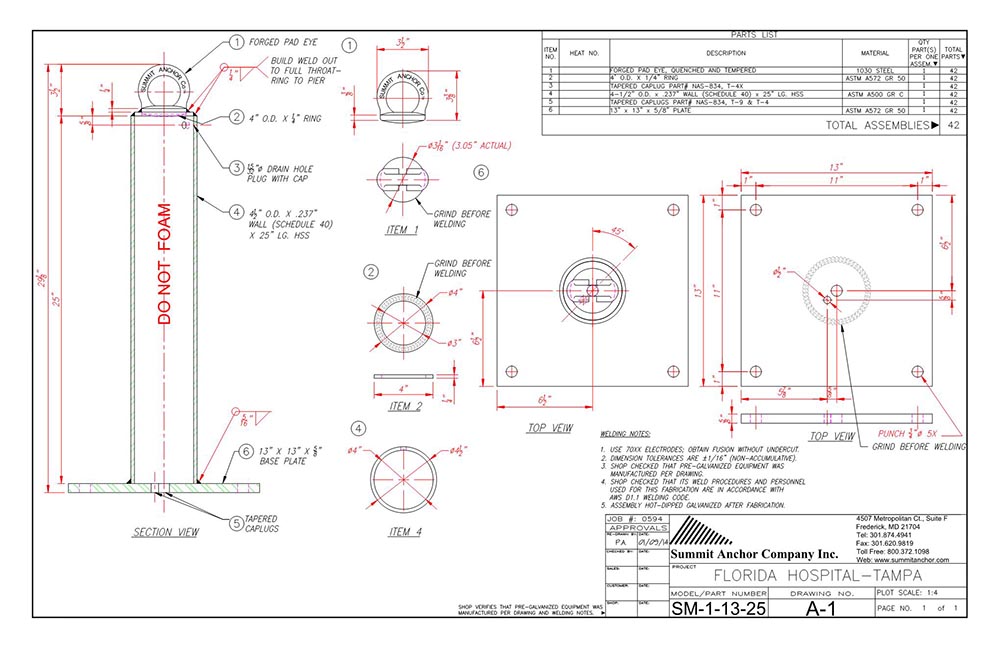 Is a drawing of a specific piece of equipment that includes, dimensions, welding symbols, finish, and bill of materials.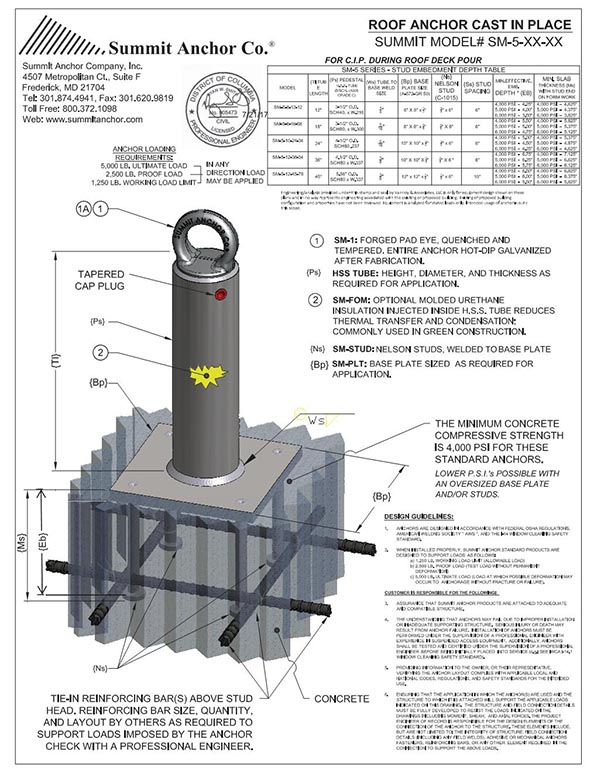 Product Application Drawing:
Is a drawing with Summit's equipment data with application information specific to the intended element and method of attachment, i.e.: cast-in-place or bolt to concrete, weld or bolt to steel, or bolt to wood framing.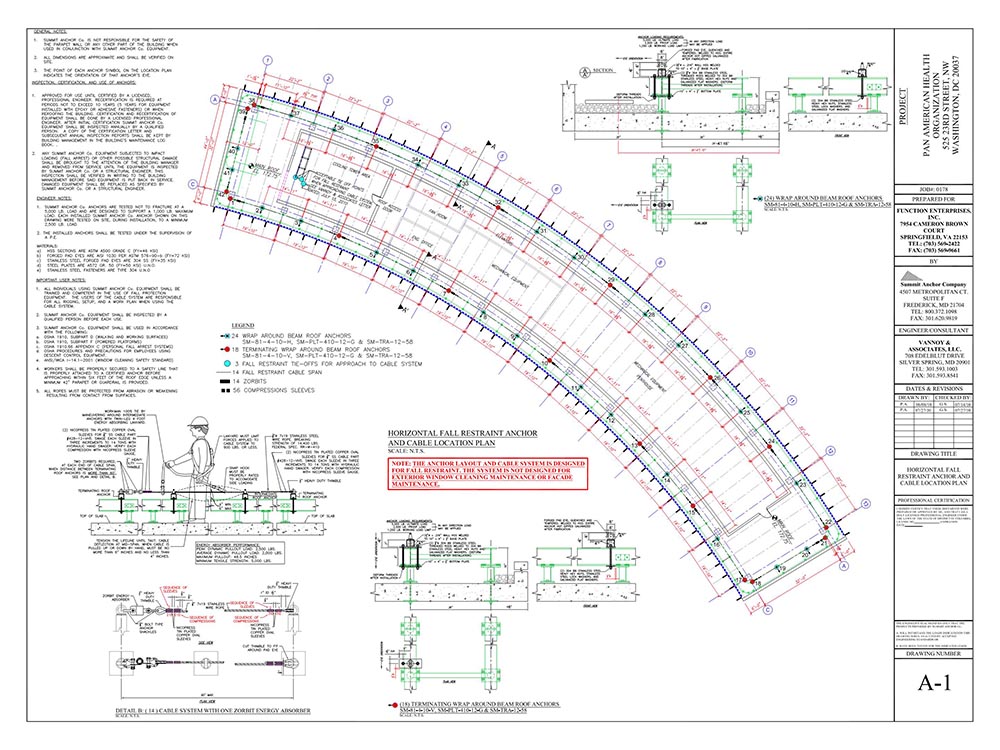 Roof door equipment layout drawing:
This is a drawing showing the location of the fall protection and suspended access equipment as laid out on the roof. The main purpose of this drawing is to inform workers, managers, and inspectors of the location, intended use, and the allowable capacity of the equipment. Note: This drawing is typically posted on the interior side of the roof door and laminated.
As outlined in the I.14 Window Cleaning Safety Standard, this is a written plan by a qualified person that includes identification of hazardous areas, drop zones, safety features and areas requiring public protection. The I.14 does not indicate pictorial drawing are required as part of a plan of service, however, pictorial drawings are very helpful to gaining insight into a plan of service.
Operating Procedures Outline Sheet (OPOS):
An OPOS is a document required in California by California GISO Title 8, Para 3282, that provides guidelines for the window cleaners and exterior maintenance procedures that includes pictorial and written form information.
An OPOS includes, (1) identification of drop zones and rigging, i.e.: recommended drop sequences, ground and roof rigging. (2) Identification of all anchorage points for personal fall protection and maintenance. (3) A description of the means and methods to be used to transfer equipment from drop location to drop location or between building levels. (4) Identification of equipment limitations and load ratings. (5) Identification of the access and egress to the work locations. (6) The storage area(s) for the permanent or transportable building maintenance equipment. (7) If applicable, indication of the location and method of stabilization provided for the suspended equipment. (8) Emergency and rescue procedures and means of communications to be used during such procedures.
While project requirements in other states or countries may require an OPOS, there is no formal standards or regulations for writing OPOS other than what may be required in the project specifications.