Horizontal cable systems are also referred to as, horizontal lifeline (HLL) or part of a Travel Restraint system is typically part of fall protection system with at least two terminating roof anchors connected by wire rope with an energy absorber. While Horizontal Lifelines allow workers the flexibility to traverse along the length of a cable span, from terminating anchorage to terminating anchorage, these systems require the workers to use compatible Personal Protective Equipment (P.P.E.) such as a full body harness and a Leading Edge Self-Retracting Lifeline (SRL-LE).
For these reasons: "OSHA requires that horizontal lifelines are designed, installed and used under the supervision of a qualified person." Subpart D – Walking-Working Surfaces
Who is the Qualified Person by OSHA regulations?
A "Qualified describes a person who, by extensive knowledge, training, and experience has successfully demonstrated the ability to solve problems relating to the subject matter, the work, or the project."
There are at least 3 various applications where a cable system may be appropriate:
Horizontal Lifeline for Fall Restraint: This system eliminates the possibility of a workers going over the an edge of a walking surface, thus preventing a worker form reaching a posi-tion from which they could fall from an elevated surface. Summit's Fall restraint lines may be used to allow up to two (2) workers within the same cable span.
However, due to the potential misuse of Horizontal lines that are intended for Fall Restraint, the designer needs to consider the implications of a worker falling while using the horizontal line, including fall clearance requirements. See Horizontal Lifeline section below.
Horizontal Lifeline for Fall Arrest: This system arrests a fall from a working surface. When a horizontal cable system is used for fall arrest Summit can only design for one (1) worker using a cable span (between intermediate anchorages or intermediate and terminating anchorage or terminating to terminating anchor when there is not intermediate anchorages). This is because when one (1) worker falls the energy absorber will be deployed resulting in an increase of sag in the cable up to eight (8) feet. If a second worker were to fall within the same span this could likely result in a free fall distance to the second worker that exceeds the limits of the systems and the workers capacity to endure that fall arrest. Additionally, the impact of the falling worker on the horizontal lifeline during arrest of the fall may cause other workers to fall. Further, workers falling within the same cable span may smash into each other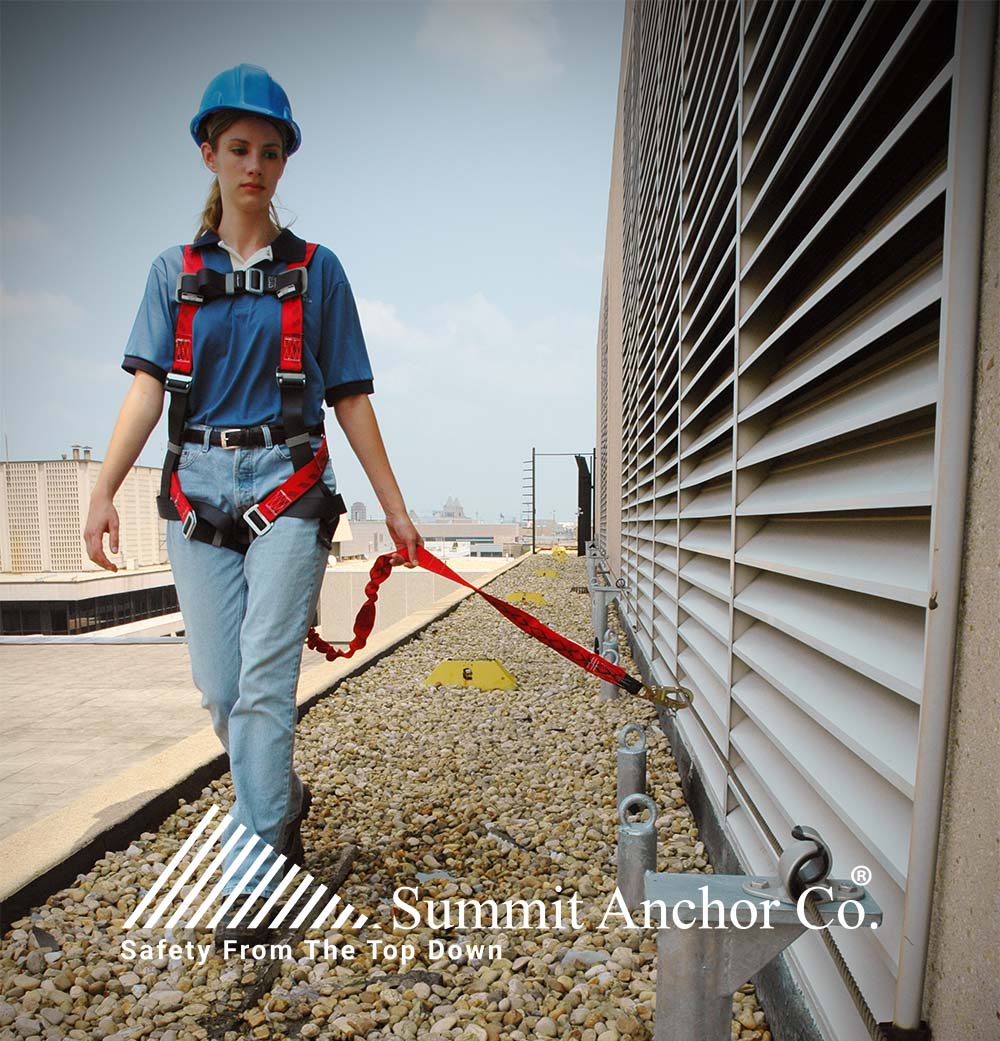 Worker using a horizontal cable system
Horizontal cable system for a Rope Descent System (R.D.S.). This system may provide access in areas of a building for rope descent workers when there is not adequate structure to install a single anchorage point. These systems are covered in Summit's Anchor Manual – See link here: Summit Anchor Co. – Roof and Wall Anchors Manual
Simple passage of a ring through intermediate pass-through anchorages
Summit offers maximum cable spans 180 ft. Horizontal Lifelines or Travel Restraint
Fall restraint, design the system with a prescribed lanyard length that is prevents the worker from a fall. For an example, when there is a 10'-6" distance from the closest building edge the worker using a maximum 8'-0" lanyard length should prevent the worker from falling.
Terminating anchorages must be designed to support a minimum of 5,000 lb. in any direction when used with a Horizontal Lifeline.
Watch video of what happens in a fall with a horizontal life subjected to an impact load — LINK HERE