Get it Right the First Time —
Fall Protection by Design
Eliminates Risk from the Start
Designing for Rope Descent Systems
By Gus Strats – Summit Anchor Company, Inc. March 14th, 2022
Edited by – Keisha Winston
Thousands of buildings will need a retrofit to comply with OSHA's fall protection safety standards, so doing it right from the start saves money and lives.
Rope Descent Systems are the most common form of accessing exterior high-rise buildings for window cleaning operations in the United States. Best practice for design of RDS systems is to locate anchorages in-line with the workers' anticipated point of suspension which is most often at a window mullion for window cleaners.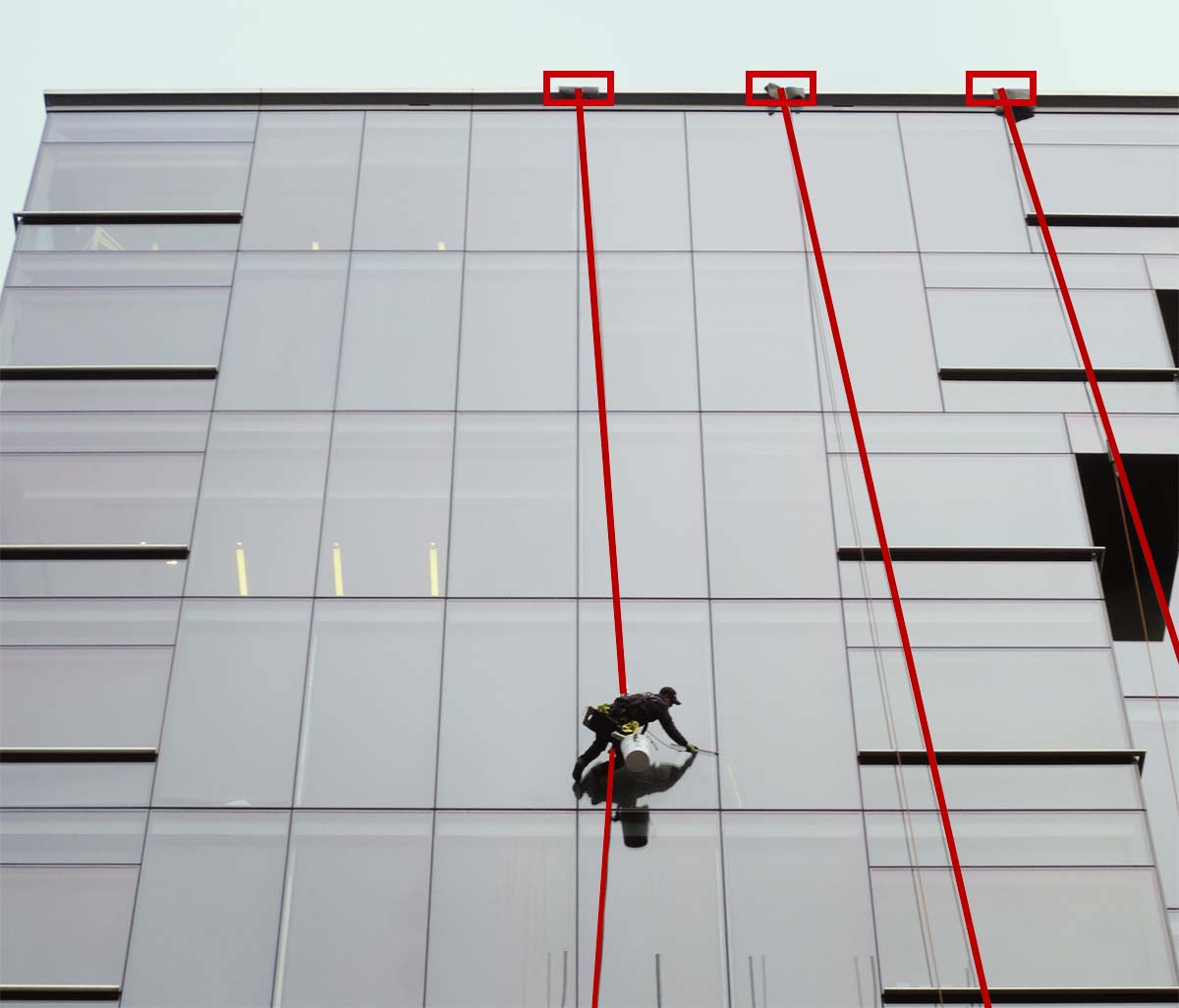 Worker positions his ropes at the window mullions

Anchor Layout for worker using RDS.
What safety standards should building designers consider?
In 2001, the I.14.1 ANSI/IWCA Window Cleaning Safety Standard addressed the lack of regulation for RDS. Prior to that standard, there was no clear direction for building owners, architects and designers on how to equip their buildings with an adequate anchorage layout for RDS for window cleaning operations in the United States. Then, in 2017, OSHA published Subpart D, 1910.21 Working and Walking Surfaces, drawing from many of the provisions in the I.14.1 standard. Designers may be required to consider other pertinent regulations for access at height (e.g., powered platforms).
Designers must also consider fall protection equipment to allow workers safe access to and around the roof.
In addition to regulating RDS, OSHA's fall protection rule regulates workers on the roof surface. This means the designer not only needs to plan anchorages for multiple workers using RDS while simultaneously suspended on the side of a building (see above picture), but also needs to consider fall protection to allow those workers safe approach to the anchorages used for RDS. (Comprehensive list of possible applicable standards and regulations referenced in Summit Anchorage Layout Guideline Manual linked below.)

Summit Anchor's previous posts entitled Fall Protection by Design Parts I, II, & III discusses fall protection when approaching roof edges.
Anchorage layout planning for RDS and fall protection is a highly specialized skill. This Anchor Layout Guide provides technical guidance to qualified designers. This guide shouldn't be used as a sole source of design and designs must be reviewed and approved by a qualified person as defined by OSHA.
CONTACT US.

Whether your project is in Athens, Greece or Anchorage, Alaska, or all points in between, we are your full service fall protection provider.
Call Summit Anchor Company today to speak with one of our representatives.