Get it Right the First Time —
Fall Protection by Design
Eliminates Risk from the Start
By Gus Strats – Summit Anchor Company, Inc. March 11th, 2022
Edited by – Keisha Winston
In the past, workers at height were expected to take risks as part of their jobs. A can-do mentality compelled many workers to accept those risks with pride. But in more recent years, attitudes about working at height have changed as employers and building owners implemented federally required worker safety measures.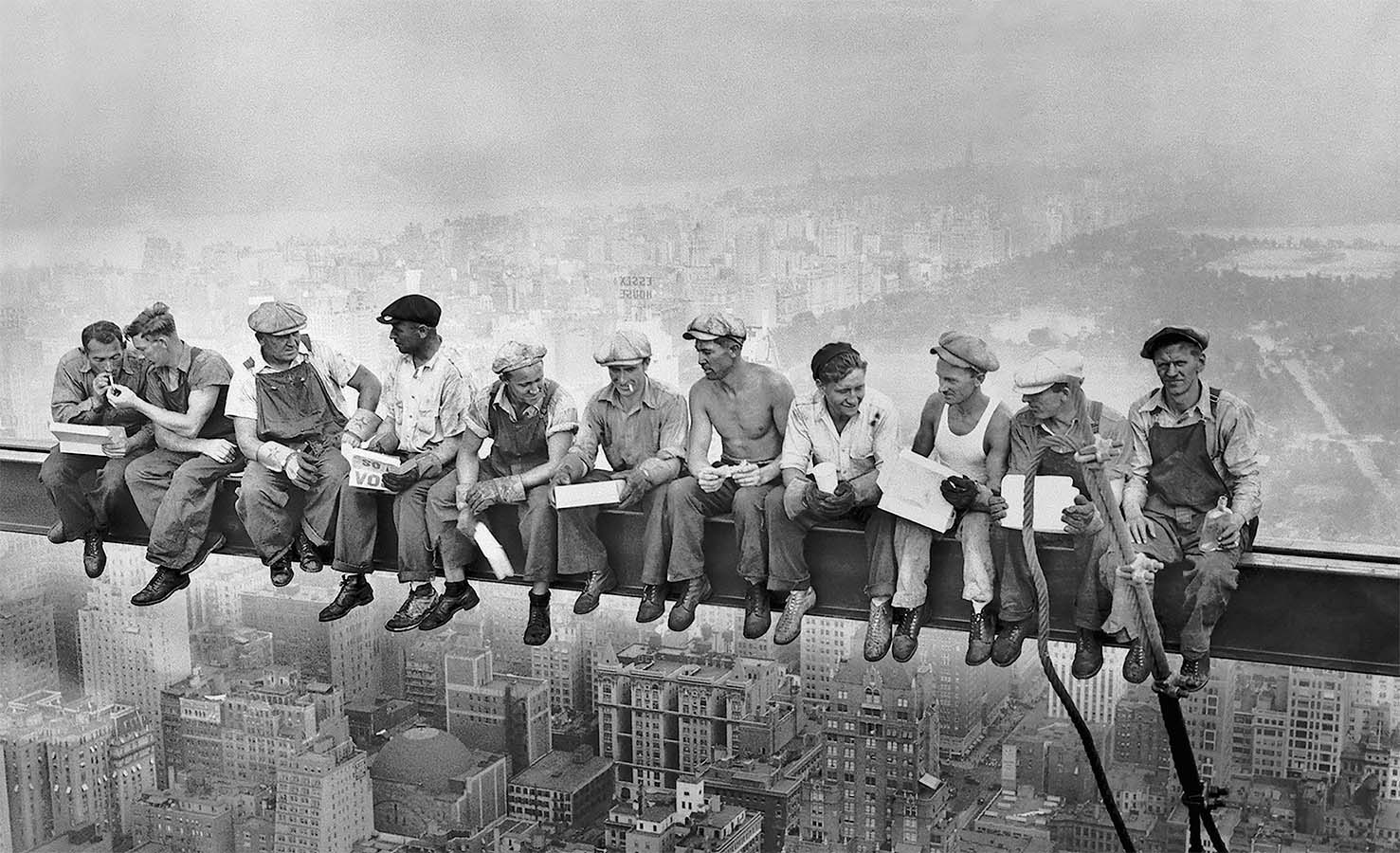 Workers relied on their sense of balance to keep from falling in this famous picture taken in 1932 during the last months of construction on the 69th floor of the Rockefeller Center building in New York City.
For example, OSHA's fall protection rule was published on November 18, 2016, and became effective on January 17, 2017. This fall protection rule regulates the edge distances for workers at height whenever a 42-inch parapet or guardrail does not exist. Applying OSHA's edge distance requirements for workers during a building's design phase can increase workers' ability to operate safely on roofs.
Let's review some height and edge distance requirements.
6-foot or greater fall potential (construction industry)
4-foot or greater fall potential (general industry)
At what edge distance does OSHA require employers to have fall protection?
Between 6 feet and 15 feet

(See Red Zone Image Below)

or less from the roof edge
6 feet minimum to 15-feet

(See Yellow Zone Image Below)

from the roof edge – with some limited exceptions for temporary and infrequent work
One way to comply with OSHA's edge distance requirement is with a fall restraint or travel restraint system*. When designing such systems, the designer should consider personal protective equipment (PPE) that is widely available and in use by workers at height.
For instance, the most common lanyard length used for fall protection is 6 feet. Assuming a worker uses a 6-foot lanyard, the designer locating a horizontal travel restraint line 8 feet from the roof edge allows a worker to be in travel restraint mode, a far safer method of traversing a roof than fall arrest because the worker is physically prevented from falling over the side, provided, of course, that the fall restraint equipment is used properly.
Above: A Travel Restraint System with a worker using an 8-foot retractable lanyard attached to a horizontal cable system 10 feet from the roof edge – a common sense design.
When designing a travel restraint system, the designer should consider that most buildings above two or three floors are best accessed by suspended equipment such as a rope descent system or a suspended swing stage. The best fall protection planning during the design phase should include both fall protection for accessing the roof and suspended maintenance equipment for tasks such as window cleaning.
Good fall protection design from the start of a project helps eliminate and mitigate fall hazards. While requiring some knowledge and forethought, fall protection during the design phase saves money and lives when it is done right the first time.
*According to OSHA, a travel restraint system means a combination of an anchorage, anchorage connector, lanyard (or other means of connection), and body support that eliminate the possibility of an employee going over the edge of a walking-worker surface.
CONTACT US.

Whether your project is in Athens, Greece or Anchorage, Alaska, or all points in between, we are your full service fall protection provider.
Call Summit Anchor Company today to speak with one of our representatives.