Answer – A) Fall Arrest System
By Gus Strats – Summit Anchor Company, Inc. February 3rd, 2022
What is a Fall Arrest System?
According to OSHA, Fall protection means a system used to arrest an employee in a free fall from a working-walking surface. It consists of a body harness, anchorage, and connector. The means of connection may include a lanyard, deceleration device, lifeline, or a suitable combination of these.
Free Fall Distance Using a 6-foot lanyard.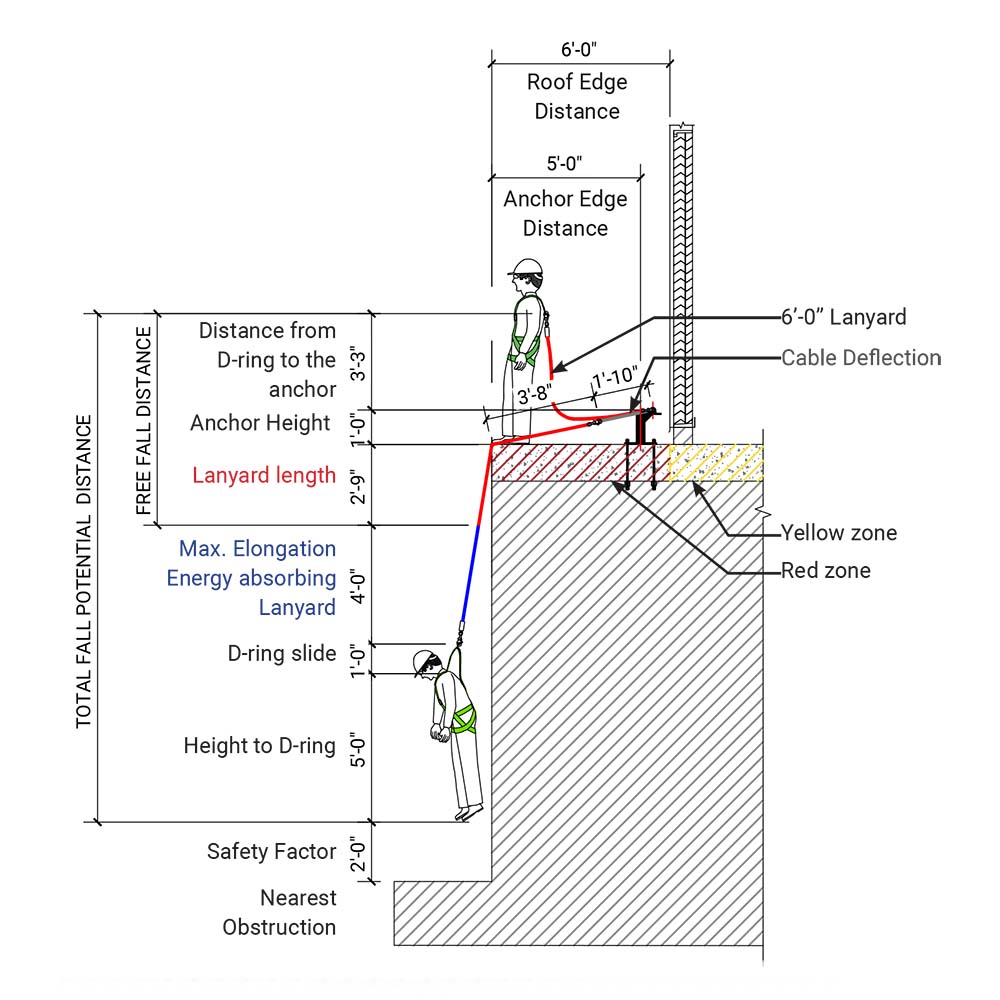 Potential overall fall distance.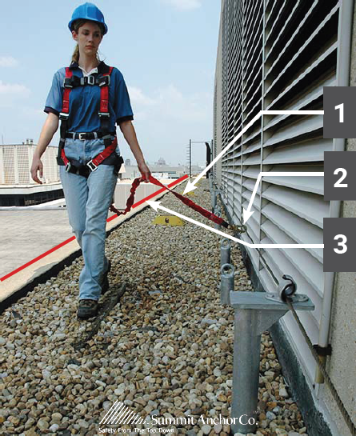 This may not be a safe fall arrest system. Why?
The proper lanyard for Leading Edge Applications is required to keep the lanyard from severing.
How to mitigate? By using the proper Personal Protective Equipment (P.P.E.) a Self-Retracting Lanyard (SRL) – Leading Edge (LE) and designing for leading edge applications.
A much safer solution would be to reduce the lanyard length to 3′-0″ converting the system into a travel restraint system, preventing the worker from falling in the first place.
Note: The ANSI Standard for sharp edge, for example involves testing the fall arrest device's lifeline over a piece of steel bar with a radius of no more than 0.005".
The snap-hook may not be designed to attach to a cable. How to mitigate?
What may happen when a fall occurs?
If a fall occurs the worker may suffer of suspension trauma.
What is suspension trauma?
"Suspension trauma (also known as "harness‐induced pathology" or "orthostatic shock while suspended") is the natural physiological response to the human body being held motionless in a vertical position for a period of time, resulting in presyncopal symptoms or loss of consciousness." Click on above link for more information.
What is a Fall Restraint or Travel Restraint System?
According to OSHA: It is a combination of an anchorage, anchorage connector, lanyard, (or other means of connection), and body support that an employer uses to eliminate the possibility of an employer going over the edge of a walking-worker surface.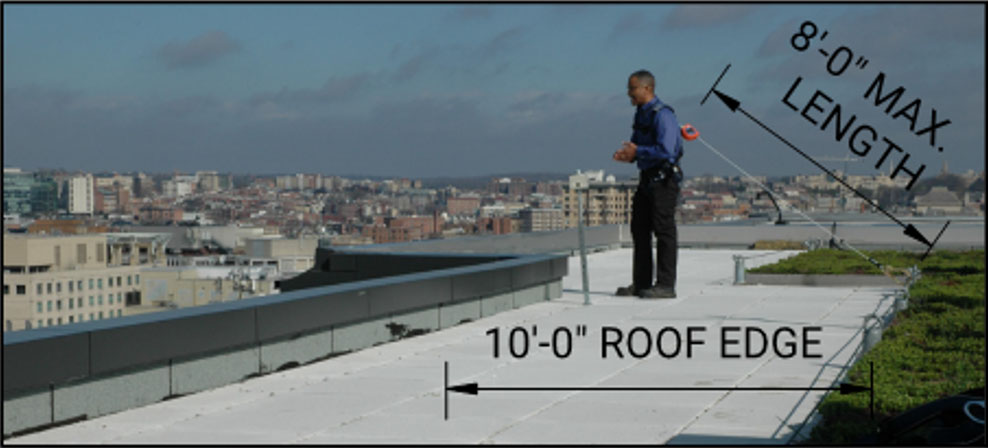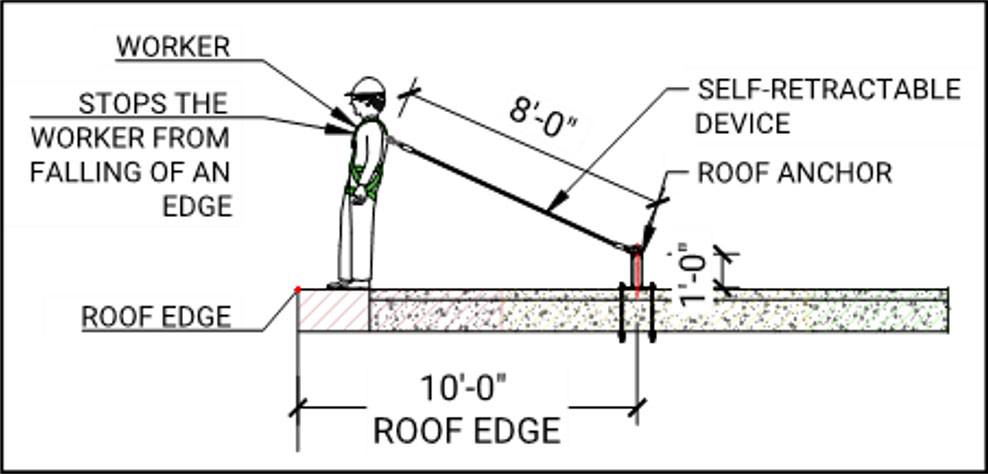 A travel restraint system prevents a worker from falling from a roof edge.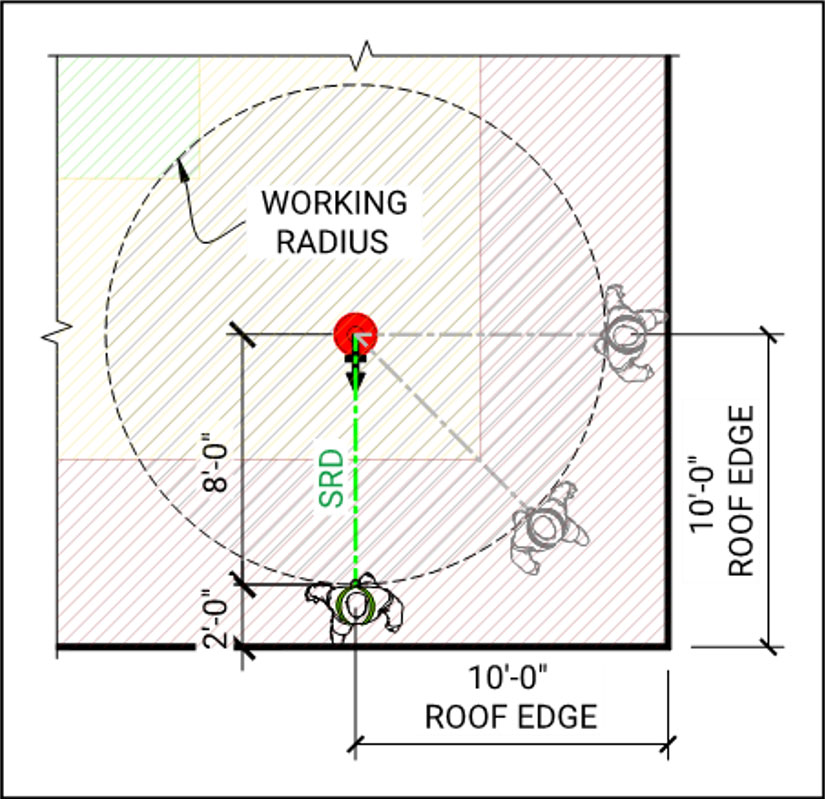 A travel restraint system prevents a worker from falling on all sides, especially corners of a building.
If an area on the roof must be accessed, a guardrail is the preferred fall protection method. This is because a guardrail is a passive system not requiring special training or equipment. A travel restraint system is the next best option followed by a fall arrest system.
The hierarchy of fall protection is:
Eliminating the hazard
A Passive System – (Guardrail)
A Travel Restraint System
A Fall Arrest System
Horizontal Lifelines used with a fall arrest system or travel restraint system should only be considered if a guardrail is not an option.
To learn more about our horizontal lifelines check out our manual by clicking on the image below.