Historic Willard Office Building
Receives Rooftop Safety Upgrade
Summit Anchor Company's work on the Willard Office Building shows it provides more than just anchors
A practical solution for a sophisticated building, all in the name of safety. That describes Summit Anchor Company's latest project which included essential features for a complete fall protection package.
In addition to rooftop anchors, Summit Anchor added a new roof grating and hatch guard to the Willard Office Building, which connects to the historic InterContinental Willard Hotel in downtown Washington, D.C. But for Summit Anchor the safety addition shows that it's more than just an anchor company: Summit Anchor is a leader in comprehensive fall protection solutions.
The Frederick, Maryland-based Summit Anchor recently finished installation of non-slip grating to cover two openings at the roof edge, an anchor system for rope descent and fall protection, and a hatch guard around an unprotected rooftop opening.  Though Summit Anchor is known for its trademark rooftop anchors, the company provides a full range of safety solutions for working at height, including non-slip grating, guard rails, hatch guards, monorails, davits and horizontal lifelines.  Maintenance workers at heights includes anyone from window washers suspended hundreds of feet in the air to roof repair contractors tied-back to an anchor for fall protection.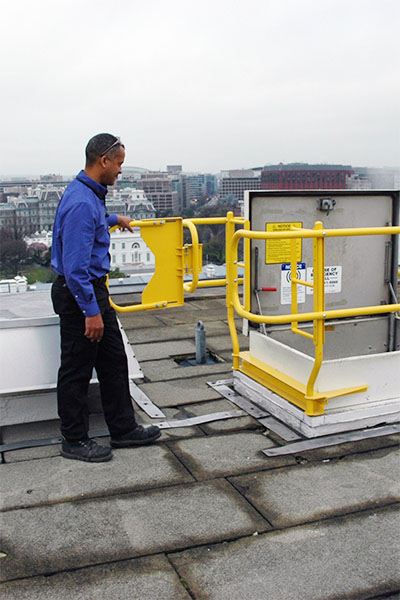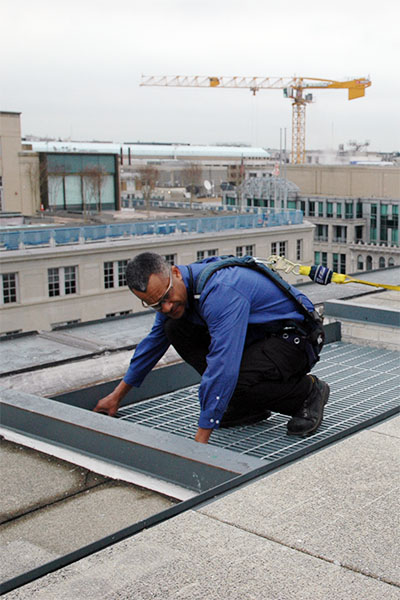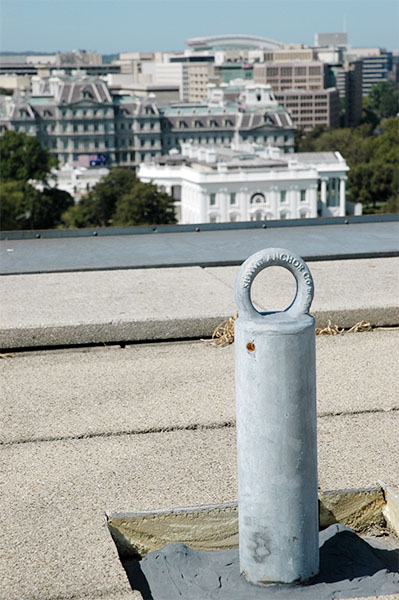 "Fall protection is our main concern.  It means more than just an anchor tied to a rope," said Gus Strats, Summit Anchor Company owner.  "We're always looking for ways to make buildings safe for workers at height, and Summit Anchor has the products, and ingenuity to do so."
Located two blocks from The White House on Pennsylvania Avenue, the 12-story, 243,000 square foot Willard Office Building offers upscale suites, coworking space, virtual office space, meeting rooms, and event space.  Other building perks include on-site valet parking, 24/7 building security, a fitness center, and Metro accessibility.  The site is one of the most prestigious addresses in the nation's capital, with nextdoor neighbor Willard Hotel credited as home to the term "lobbyist".  The Willard Hotel has been hosting notable artists, dignitaries and politicians, even presidents since the mid 1800s. The postmodern Beaux-Arts style hotel and office building were renovated in 1986.
About three years ago, Summit Anchor started working on the rooftop project with Carr Properties, which manages the Willard Office Building.  As Summit Anchor and Carr Properties consulted and were working on design drawings, Summit Anchor's design team noticed the potential hazards with the rooftop access openings and suggested a hatch guard and non-slip grating.  These simple and practical solutions, meant compliance with the Occupational Safety and Health Administration's Subpart D Walking and Working Surfaces.  Carr Properties agreed to add the safety features, an adjustment that extended the project's length but were invaluable additions.
Roof openings, if left open, could pose a fall hazard that could result in severe and deadly injuries should a worker fall into the hole. Most work-related falls to a lower level from ladders occurs between 6 to 10 feet, according to the U.S. Bureau of Labor Statistics' website. Fatal work-related falls to a lower level increased 26 percent from 2011 to 2016, says the Bureau, with statistics showing that over the six-year period, there were 3,723 fatal falls to a lower level.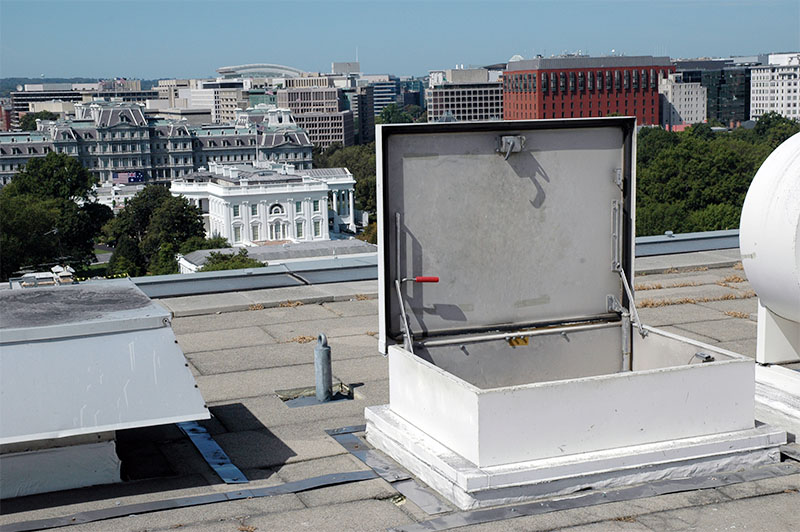 Before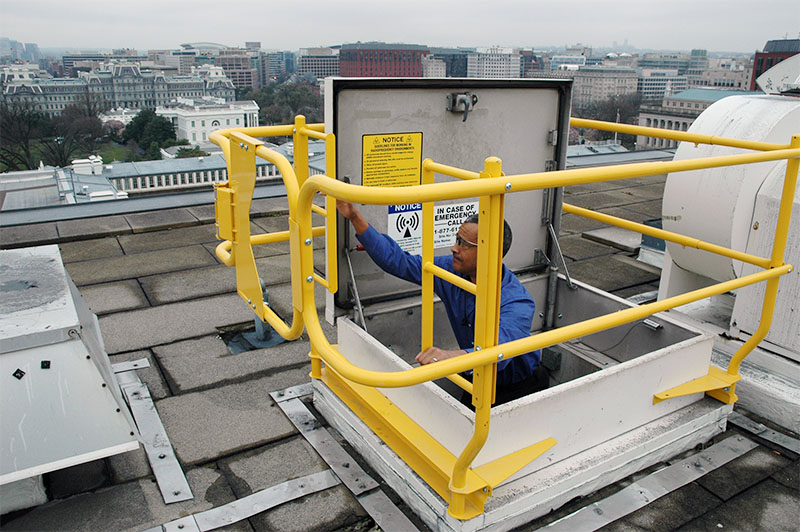 After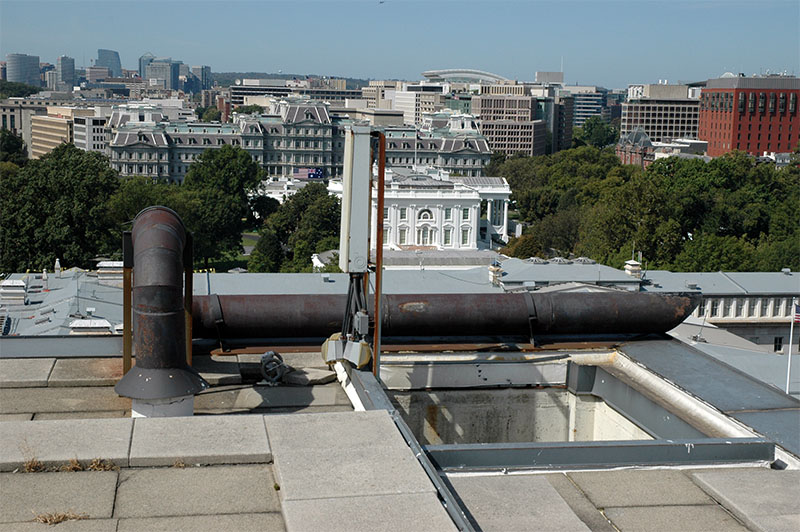 Before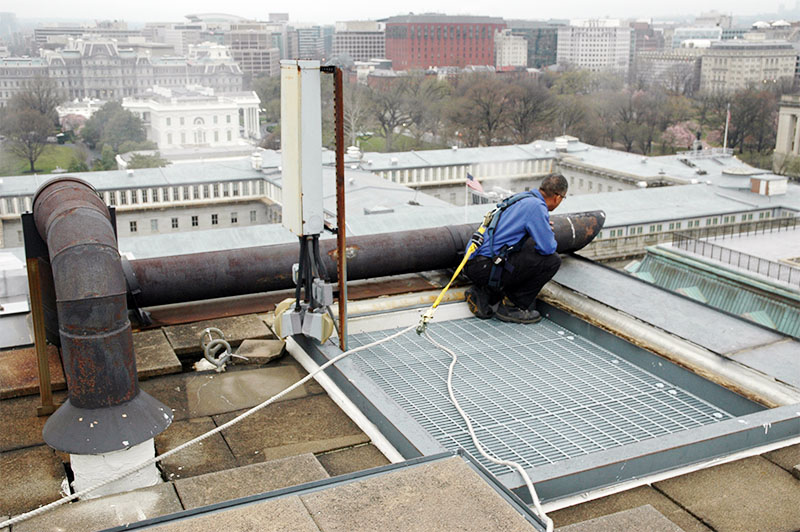 After
On  the Willard Office Building, the new hatch guard came complete with a walk-through ladder with proper top hand rails that allow for safer access to the roof.  Workers accessing the roof "don't have to clamber their way in and out hoping that they don't lose their grip or slip," Strats said.  One maintenance worker said the ladder's handrails made it easier and safer to climb up and down from the roof, and rated the ladder a 10 out of 10.
"We know that building owners and managers often need more than anchors for the safety of workers up on those roofs, but are unaware of what can be done to make the roof safe," Strats continued.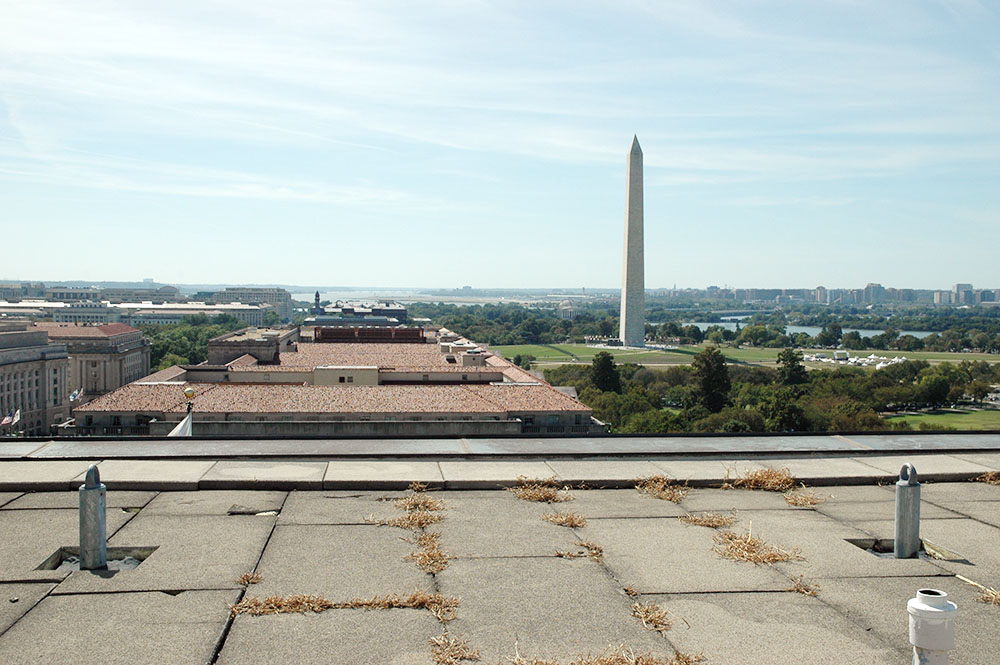 Summit Anchor provides fall protection systems in the Washington, DC metropolitan region, nationally and internationally.  Safety from the top down is Summit Anchor's motto and mission, promoting safe conditions for workers at height such as window washers, green-roof landscapers and other building maintenance workers.
Trust Summit Anchor Company, safety from the top down.
Written by Keisha Winston