When Boston Properties decided to renovate its flagship property, Metropolitan Square, the company selected Summit Anchor Company to design, install, and test its fall protection and suspended access system.
Metropolitan Square, at 655 15th Street, NW, Washington, DC, is adjacent to several historic buildings including the White House, The Executive Office Buildings and the Department of Treasury.
With a trophy roof deck terrace that provides unrivaled views of the city, this building has been around for over a century. The original building was built from 1905 to 1907. Then in 1986 its façade was incorporated into the new office building – Metropolitan Square. But a major $60 million renovation started in 2018, with construction expected to be completed in 2020.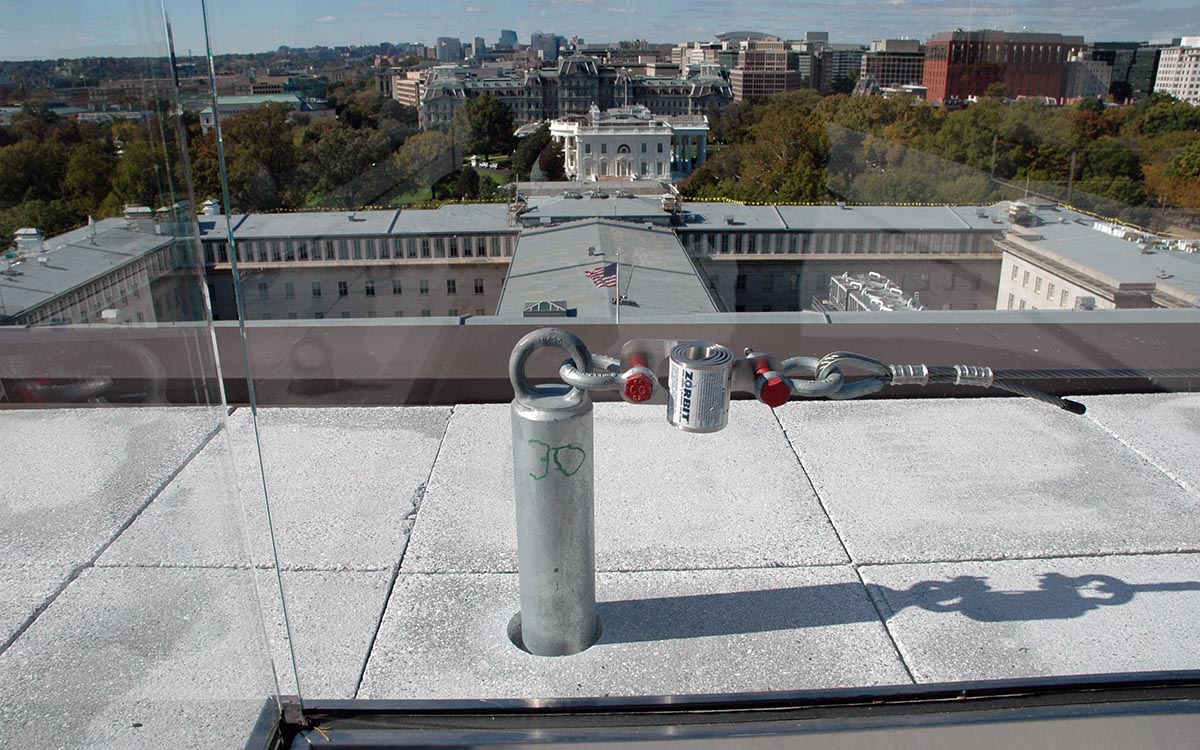 Historic buildings adjacent to Metropolitan Square
Summit Anchor integrated a horizontal cable system to allow continuous fall protection access while traversing the outside of the new glass guardrail. Anchors were also installed in pairs at the center of window bays to comply with OSHA's new rule for rope descent systems, namely that two anchors that can support 5,000 pounds for each line attached. One line of a rope descent system is used for suspension of the worker, and the second line of a rope descent system must have an independent fall arrest line tied to an independent anchor — in case of failure of the primary suspension system.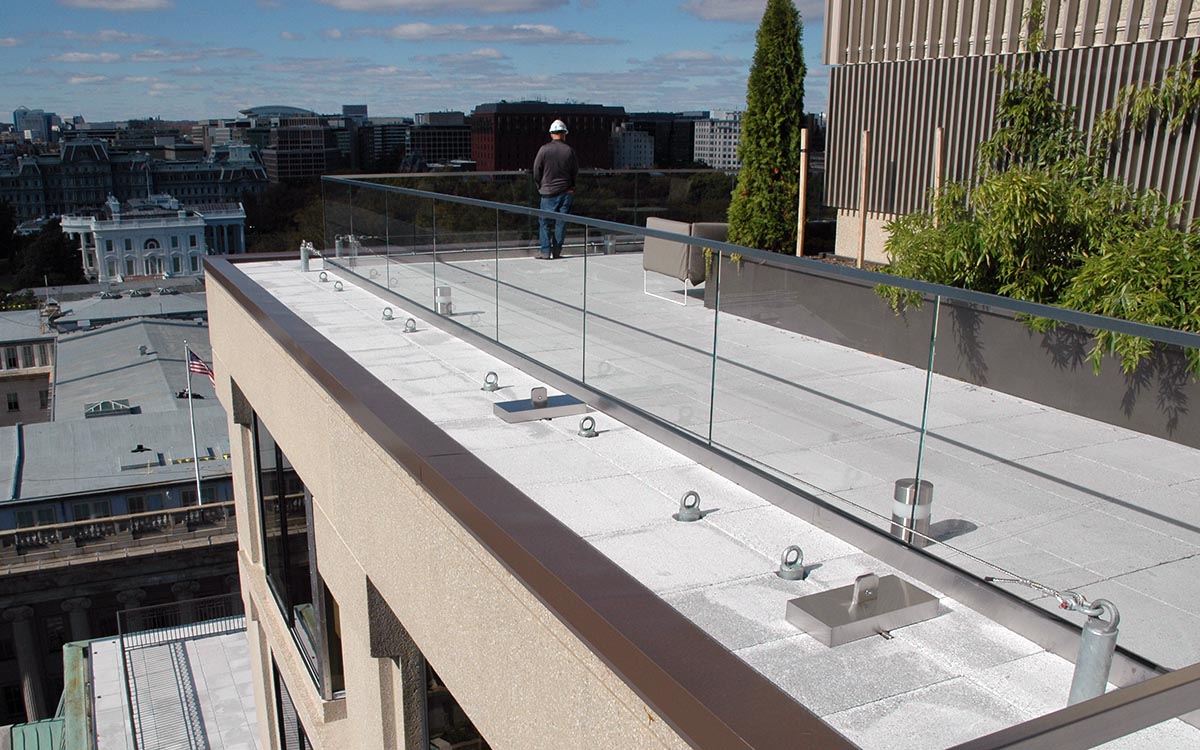 New guard rail with Summit Anchor Co., anchors and cable system
While bidding on the project, Summit Anchor representatives noticed that construction drawings did not address fall protection issues that would make the renovated building comply with OSHA requirements. Davis Contruction, the Metropolitan Square contractor, and Boston Properties expressed their willingness to make it right, jumpstarting discussions about the fall protection system's design. New plans included moving the glass guardrail back a few inches to allow for more walking surface for safety and adding a pair of anchors for each rope descent system at each window bay.
Summit Anchor addressed the issue of anchor placement, as well. "The anchors on the construction drawing were arbitrarily located. Summit Anchor relocated the anchors to the center of windows bays so window cleaners could easily reach the windows using a rope descent system," said Gus Strats, Summit Anchor owner.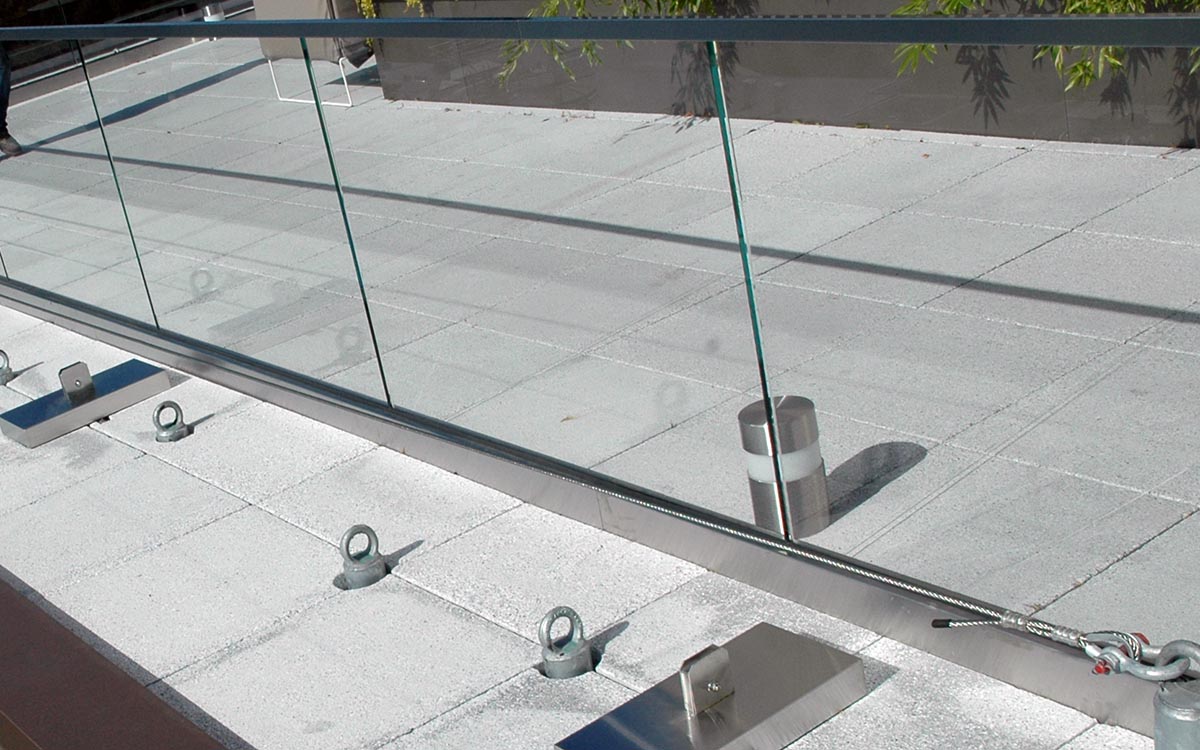 Anchor pairs located at the center of window bay for safety and OSHA regulations
Excerpt of Summit Anchor Co., shop drawing with anchors laid out in pairs.
Summit Anchor thanks Boston Properties for working collaboratively on this project. Boston Properties made adjustments in the interest of safety, a core value for Summit Anchor. The collaboration shows that aesthetics and safety can be combined when there is a mutual interest in safety.
Trust Summit Anchor Company, safety from the top down.
Written by Gus Strats