Use Your Head – by Protecting It
Summit Anchor Company Upgrades Safety with KASK Helmets
By Gus Strats – Summit Anchor Company, Inc. September 22nd, 2022
Edited by – Keisha Winston
Summit Anchor Company recently announced that it has transitioned workers from using hardhats to helmets as it leads the way in worker safety. As of August 29, the company's field and shop workers switched to KASK brand helmets, a change it hopes better protects workers from fallen objects and impacts from falls.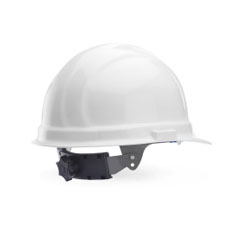 HARDHAT
HELMET
"We care about our workers and want them to use the best tools, equipment and practices to ensure their safety," said Summit Anchor president Gus Strats.
After researching brands, Summit Anchor chose KASK Plasma and Zenith helmets that meet both American National Standards Institute (ANSI) Z89 Type I standard and the European Safety Standard EN 12492. The helmets, which will be worn by Summit Anchor's installation and testing and manufacturing departments, include an integral chin strap that provides improved head protection. While hardhats safeguard the head from falling objects, they can easily fall off. KASK helmets, on the other hand, comply with the EN 12492 requiring helmets to pass tests for top and lateral impact absorption, penetration resistance and chin strap strength and retention systems effectiveness.
With this transition, Frederick-based Summit Anchor is in good company.
Major construction outfits such as Clark, Skanska, Gilbane, Balfour Beatty, Scaffold Resource, and HOAR Construction companies have transitioned or are in the process of transitioning their employees from hardhats to helmets. Other construction companies are not far behind in considering requiring helmets.
Summit Anchor Project Manager Mike Brown said that although the helmets slightly add more weight to worker's equipment load, he feels that the change is worthwhile.
"Not only do you have protection from falling objects, but you also have protection from other job site accidents such as a slip and fall," Brown said. "I think Summit Anchor's transition to helmets is a great idea and further shows its commitment to ensuring the safety of all employees and their respect for life."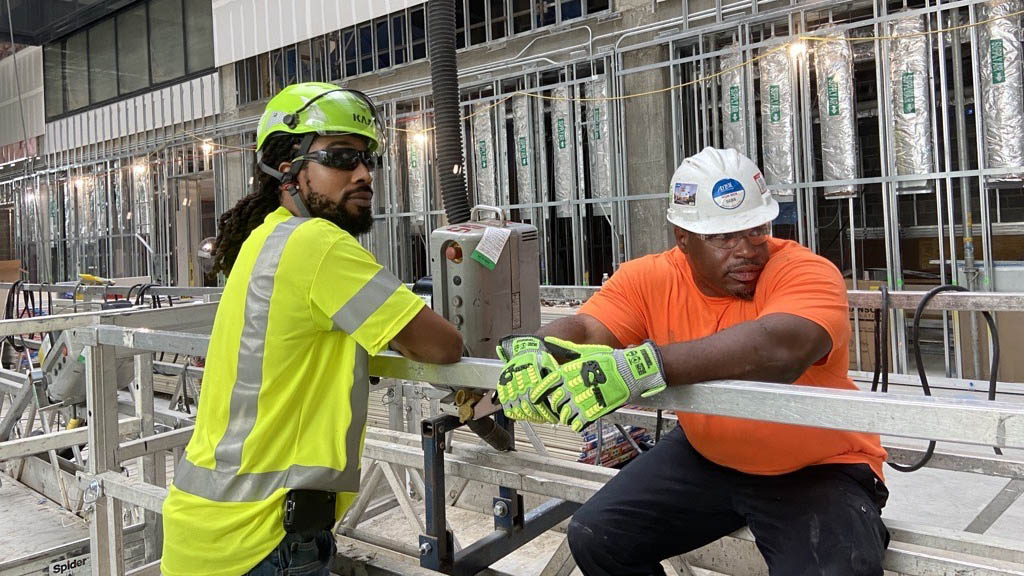 Summit Anchor Project Manager, Michael Brown, sports his new hi-visibility KASK helmet with an integrated visor while consulting with Spider Technician, Tyrone Powers. Tyrone is demonstrating how to use Spider's rental platform at the Australian Embassy Project in Washington DC on August 22, 2022, for the installation of the monorail by Summit Anchor. Tyrone is wearing a traditional construction hardhat.
Both the International Window Cleaning Association (IWCA) and the Society of Rope Access Technicians (SPRAT) safe practices publications require wearing appropriate helmets for workers using rope access. For one thing, traumatic brain injuries are common in the construction industry. And the U.S. Bureau of Labor Statistics shows that there are more injuries and deaths from falls from under 30 feet than over 30 feet. Experts feel that workers may lower their guard when working closer to the ground.
Summit Anchor thinks that helmet use is one way to reduce these injuries and fatalities; it also encourages companies to provide proper training on how to wear and maintain them.
"We view replacing hardhats with helmets as a small investment when compared with the safety upside that helmets with chin straps provide — and we are advising our clients and associates of the same," Strats said.
The Occupational Safety and Health Administration addresses fall protection systems and head protection for falling objects, but its current head protection standard does not mention head protection from falls. Thus, companies should proactively require that workers wear helmets whenever they're at risk of fall injuries. Strats hopes that OSHA considers making helmets the latest safety standard for personal protective equipment and has submitted a letter requesting that the agency open rulemaking on head protection.
"If OSHA updated its head protection standard, taking into consideration the latest advancements in head protection, I believe that would save untold workers' lives," Strats said.
3 good reasons to consider using a helmet:
Better protects workers from head injuries
Reduces costs associated with work-related injuries
Increases worker productivity and morale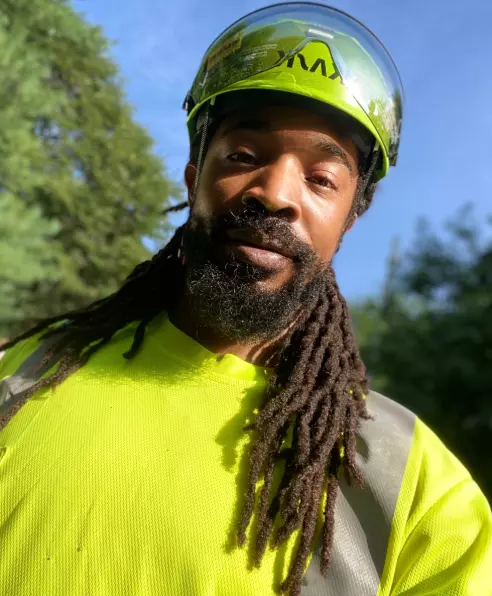 CONTACT US.

Whether your project is in Athens, Greece or Anchorage, Alaska, or all points in between, we are your full service fall protection provider.
Call Summit Anchor Company today to speak with one of our representatives.