Summit Anchor Co. – On The Ropes
By Gus Strats – Summit Anchor Company, Inc. August 25th, 2022
Edited by – Keisha Winston
After decades in the rope access business, Summit Anchor Company president & CEO earns SPRAT certification.
Thirty five years since Gus Strats made his first rope descent in 1987, he has added a new accomplishment to his list: He has earned Society of Professional Rope Access Technicians Level I certification.
"Gus Strats puts into practice his SPRAT training at Madison Window Cleaning's Training Facility under the supervision of Mike Draper of Expert Safety Services. Mike Draper is a SPRAT Level III Rope Access Technician and an International Window Cleaning Association Certified Instructor."
The certification will help Summit Anchor better design suspended access systems on buildings that may have difficult-to-reach areas that need routine maintenance and rescue of workers at height during an emergency.
"Summit Anchor is in a better position to provide building owners fall protection design and systems that are safer and more cost effective to maintain over the life of the building," said Strats.
Strats continued: "Understanding how SPRAT on-rope maneuvers may be used to access difficult-to-reach areas, Summit Anchor can then design permanently installed equipment, such as anchors, to be used in combination with well-thought-out, documented SPRAT rope maneuvers like rope-to-rope transfers."
SPRAT certification requires recipients to receive a high level of training. It includes instruction on how to rescue a worker suspended on rope in midair by a fellow worker suspended on-rope in midair. And SPRAT level II training teaches rope access technicians how to rescue workers on-rope in the same hard-to-access areas that SPRAT Level I teaches workers to access. Training in a variety of on-rope rescue techniques is vital because OSHA requires employers to provide a prompt means to rescue stranded workers.
Summit Anchor believes it is important for its customers to know that it takes fall safety seriously. It educates employees about new ideas, techniques and practices to provide the best possible access systems to workers at height.
That's why "Safety from the Top Down" remains at the core of Summit Anchor's mission.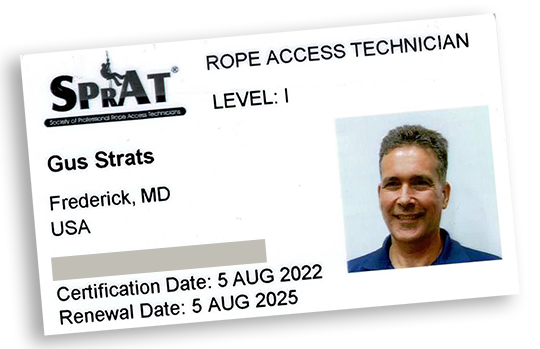 CONTACT US.

Whether your project is in Athens, Greece or Anchorage, Alaska, or all points in between, we are your full service fall protection provider.
Call Summit Anchor Company today to speak with one of our representatives.