Train your employees to protect themselves from falls with classes from Summit Anchor Co.
By Keisha Winston – Summit Anchor Company, Inc. December 21st, 2022
In December 2022, a man died after falling from scaffolding while washing windows on a Washington, D.C. building. Two months before that a window washer died from a fall while working inside Boston's JFK Presidential Library. A man died in Miami-Dade County, Florida after falling from scaffolding in July. And in January 2022, a man died in San Diego's East Village after falling while washing windows.
Reports from around the country about injuries and deaths from high-rise falls are alarming. Since working at height can be inherently dangerous, it's vital that employers adequately train window washers, landscapers and others who work these jobs to mitigate serious injury or even death.
That's why Summit Anchor Company is focused on training its employees in-house and on promoting safety measures to designers, employers, building managers and anyone else with employees working at height. Two employees at the Frederick, Maryland-based company recently received 3M Authorized Essentials fall protection training conducted by Summit Anchor's CEO Gus Strats.
"This training, to the extent it is applied, saves lives," Strats said.
Strats offers the 3M training class to companies throughout the metropolitan Washington, D.C., Maryland and Virginia area, as well as in other states. The above class is four hours long, and a company can arrange for classes to be held on location.
Javier Crockett, a Summit Anchor installation technician who took the training course, said it has helped him keep in mind safety techniques, like double checking equipment before working. Workers may get lax when trying to hurry to finish a project, he said.
"The training really helped me to slow down and be more safety conscious," Crockett said.
Summit Anchor is an industry leader in fall protection and suspended access systems. From design and consultation, to installation, to testing and certification, and now training, the company ensures that architects, engineers, facility managers and owners comply with OSHA requirements for building fall protection systems used by window cleaners and other suspended maintenance workers.
Our company regrets any loss of life, and sends condolences to the families who lost loved ones in these workplace incidents. At Summit Anchor, we promote safe working practices so fewer people experience the death of a family member due to workplace accidents. Our hope is that after a long day's work, people can return home to their families.
Contact Summit Anchor today to schedule 3M Authorized Essentials training for your employees.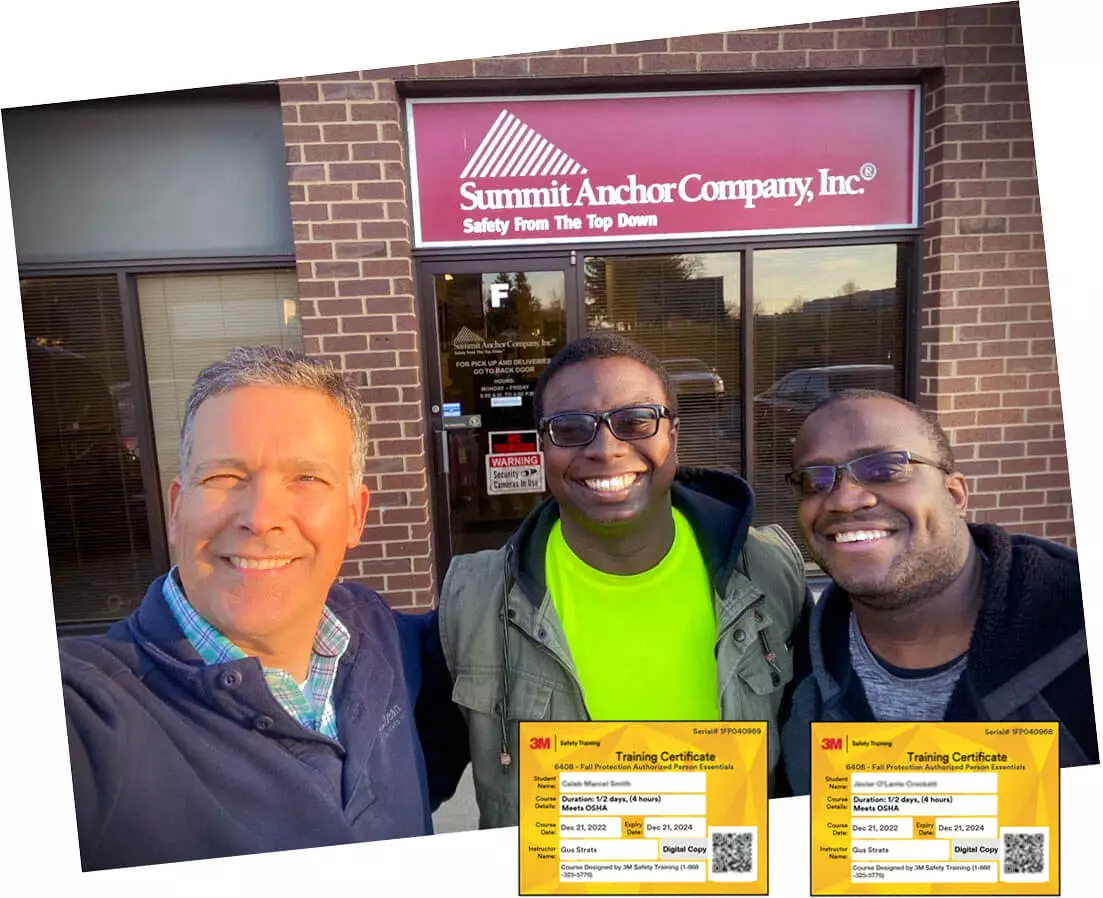 CONTACT US.

Whether your project is in Athens, Greece or Anchorage, Alaska, or all points in between, we are your full service fall protection provider.
Call Summit Anchor Company today to speak with one of our representatives.