Above: ACI Training session at Summit Anchor's Frederick, MD office
Summit Anchor Employees Become ACI Certified Adhesive Anchor Installers 
By Gus Strats – Summit Anchor Company, Inc. December 15th, 2022
Edited by – Keisha Winston
Training and development are a hallmark to any good organization. Summit Anchor Company is no exception.
Recently, three Summit Anchor employees became certified by the American Concrete Institute as adhesive anchor installers, with their training focused on proper installation of adhesive anchoring systems. The Adhesive Anchor Installer Certification by ACI is one of the best resources for life-safety issues when installing adhesive anchors in concrete.
An adhesive anchor is a generic name for a fastening system that typically includes epoxy or resin to bond a threaded rod to a hole drilled into concrete. Improper installation of adhesive anchors, or any fastener for that matter, can result in failures and ultimately cause property damage, human injuries and even the loss of life. Thus, the ACI course trains installers to follow procedures set out by product manufacturers and adhere to direction from engineers on installation of various adhesive anchor systems. The ACI training for certified adhesive anchor installer may be applied to the installation of other fasteners, such as expansion and undercut anchors.
"Installing anchors correctly and safely is key to having a good reputation in the industry," said Gus Strats, Summit Anchor president and CEO. "ACI training gives our employees the knowledge and the skillset to get it done right."
The ACI program covers basic skills for the proper installation of adhesive anchors in concrete construction. It covers a wide range of adhesive anchor system installation conditions and issues commonly encountered on job sites. The certification has three parts:
Above: Written instruction and tools for performance examination
Written closed book examination
Two-part performance examination


Vertical down hole in concrete – includes selecting, assembling and using the proper tools, equipment and materials to drill and clean a vertical down hole in concrete, inject adhesive, and set an anchor to the proper depth and perpendicularity.
Vertical up application using the retaining cap system – requires injecting clear tubes with adhesive in an overhead orientation behind a blind to simulate a drilled hole in concrete using the piston plug method.
This adhesive anchor certification is one way Summit Anchor ensures its workers have the most up-to-date safety procedures, techniques and tools to install its safety suite of products. Training and development of Summit Anchor employees makes the company one of the best in the fall safety construction industry.
Picture series below shows a Summit Anchor employee performing a vertical down installation for an adhesive anchor evaluation
Vertical up anchor installation evaluation by Summit Anchor employee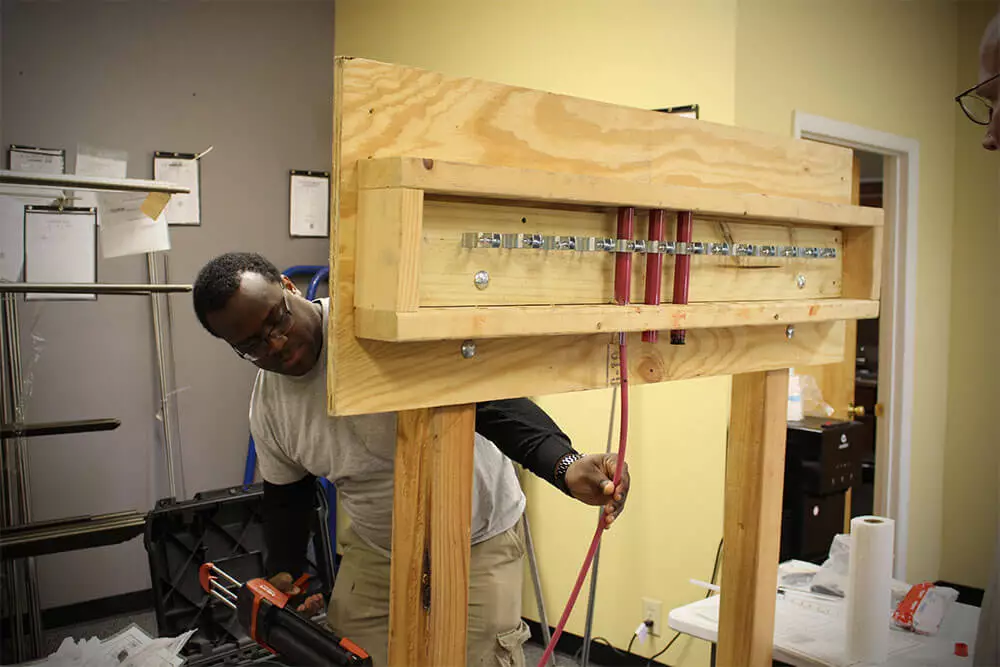 According to Hilti's website there are 5 common types of anchors or fasteners
There are five common types of anchors, four that are post-installed and one that is cast-in-place.
Adhesive anchor is post-installed anchor that is inserted into a drilled hole in hardened concrete, masonry or stone. Loads are transferred to the base material by the bond between the anchor and the adhesive and the adhesive and the base material.
Cast-in-place anchor is traditionally a headed bolt, headed stud or hooked bolt installed before placing concrete. Additionally, cast-in-place internally threaded inserts are a form of cast-in-place anchors.
Expansion anchor is a post-installed anchor that is inserted into a drilled hole in hardened concrete or masonry. Loads are transferred to the base material by bearing, friction or both.
Screw anchor is a post-installed anchor that is inserted into a drilled hole, typically smaller in diameter then the anchor, in hardened concrete or masonry. Loads are transferred to the base material by keying.
Undercut anchor is a post-installed anchor that drives holding strength by the mechanical interlock provided by undercutting the concrete at/near the back of the hole, achieved either by a special tool or by the anchor itself during installation.
Note: An anchoring system, anchor, or fastener is not to be confused with an anchorage for fall protection or suspended access. Anchorage means a secure point of attachment for workers to connect fall protection and suspended equipment.
Summit Anchor Co. Anchorage installed with various fasteners or anchors.
CONTACT US.

Whether your project is in Athens, Greece or Anchorage, Alaska, or all points in between, we are your full service fall protection provider.
Call Summit Anchor Company today to speak with one of our representatives.