Get it Right the First Time —
Fall Protection by Design
Eliminates Risk from the Start
Locating Anchorages In-Line for Suspended Workers using Rope Descent Systems
By Gus Strats & Raiff Margerum – Summit Anchor Company, Inc. April 6th, 2022
Edited by – Keisha Winston
Thousands of buildings still need an anchorage retrofit to comply with OSHA's fall protection safety standards. This is because there's a major safety concern with many existing anchorage layouts: Oftentimes anchorages for workers at height are placed too few and far in between. So workers do not have enough anchorages to safely rigg their suspended access equipment.
Instead of anchorage layout plans that reflect real-world use, Rope Descent System users are forced to tie their equipment in non-compliant and unsafe ways because they have insufficient anchorages. This is dangerous for workers at height and puts building owners and the public at risk.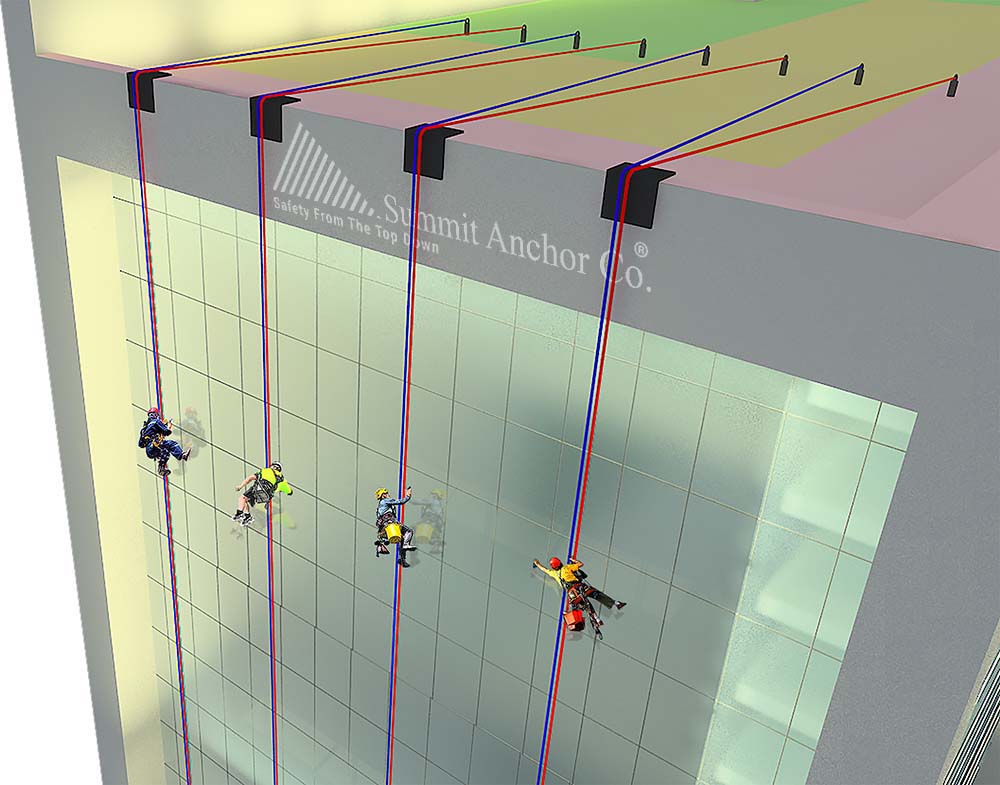 Above image shows 4 workers using rope access with each worker
tie-back to 2 independent anchorages as required by safety standards.

The best way to provide safe conditions for window washers and other workers at height is to consider tie-back angles for workers to connect to anchorages. Best practice is for anchorages to be in line with the intended location of descent or the point of suspension, which is most often at the window mullion for RDS. Since the 1970s, RDS has been the most common form of accessing exterior high-rise buildings for window cleaning operations in the United States.
What is the 15-degree rule that designers should consider?
Design for new construction: Locating anchorages in line with the intended location of descent is best. The 2001 ANSI/IWCA I.14 Window Cleaning Safety Standard stipulates for new construction by stating, "Anchorages should be placed in line to the work area to prevent displacement of lines under load and/or a fall greater than 6 feet."
Design for existing buildings: The I.14 says that anchors should be placed in line with the suspended worker. Where this is impracticable, anchors may be offset no more than 15 degrees from in line (perpendicular) provided displacement of the rope under the load can be prevented. The I.14 emphasizes that worker safety is of utmost importance when designing an anchor system to be installed on an existing building.
Based on our experience, locating anchors in line is easily done on concrete buildings for both new construction and existing buildings and may not pose a significant cost increase. Locating anchorages in line on existing steel frame buildings can be expensive because of additional bracing required to support the loads from the anchorages.   
Clearing up a Common Misconception: Often, people think the ANSI IWCA I.14 Window Cleaning Safety standard applies only to workers using RDS systems. However, section 5.8.22, Fall Arrest Systems for Suspended Scaffolding states the following: "The lifeline of the system shall always be anchored in-line (within 15 degrees of perpendicular) with the suspended worker or platform." The appendix reference states that anchors are to be placed in line with the suspended worker where this is impracticable, may be offset no more than 15 degrees.
Considering the two above references, it is clear the standard intends that workers attach ropes to an anchorage located perpendicular to the suspension point or directly above them regardless of whether their work platform is a bosun's chair or a suspended platform. If impracticable, the allowance is 15 degrees offset maximum. Bear in mind that the word "impracticable" is not the same as "impractical."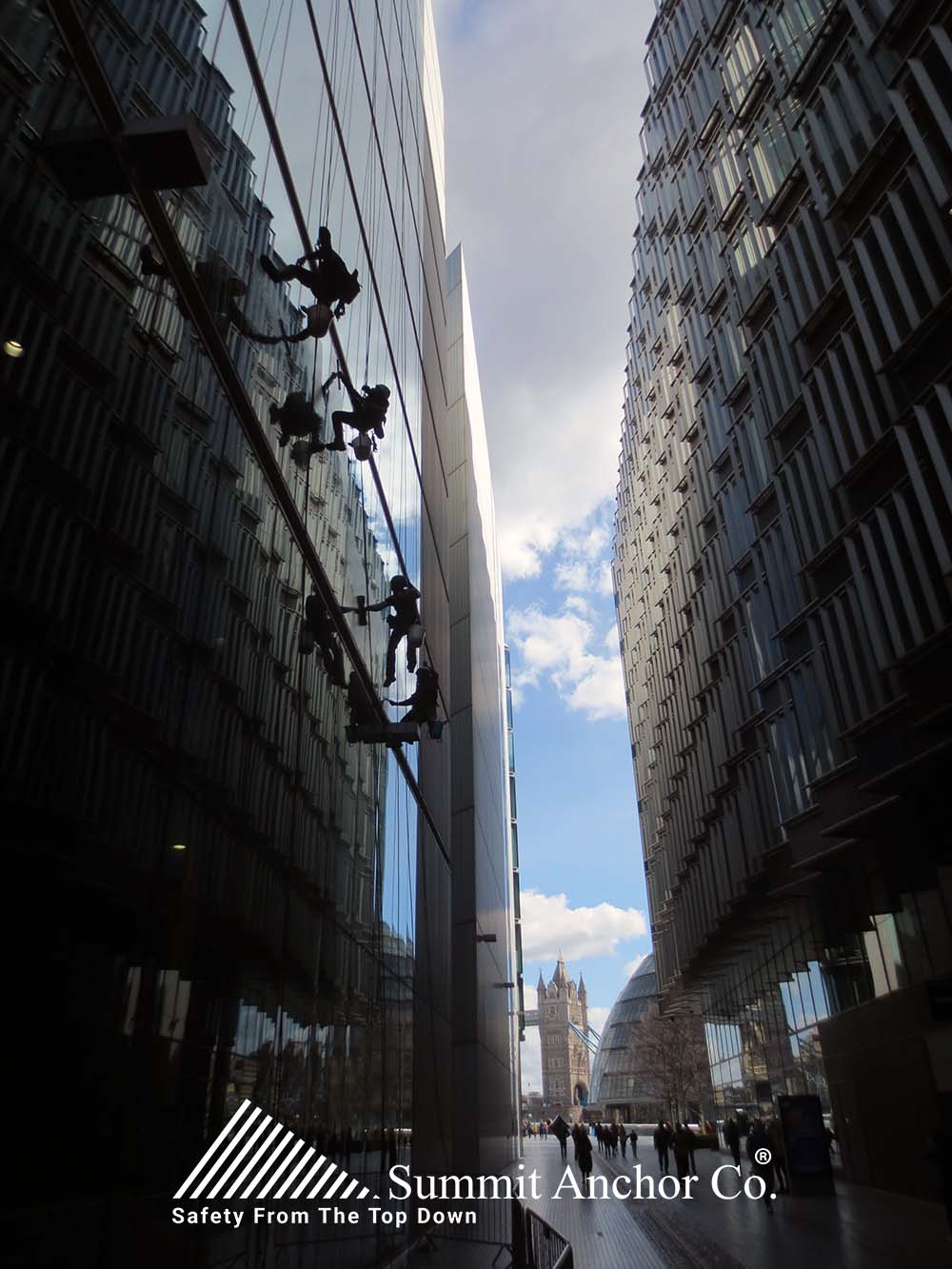 Above picture taken on Saturday, April 9th, 2022, in London, The Capital of The UK, by Gus Strats.
Picture of 4 workers using Rope Descent Systems – a common practice worldwide.

What does OSHA say about the angle of tie-back?
OSHA states that "proper rigging includes the angle of attachment and therefore needs no further elaboration." The I.14 standard addresses proper rigging by requiring that employers train workers in correct and accepted rigging practices. (Section 5.7.2)
Designers must also consider fall protection for workers to allow safe access to and around on the roof.
In addition to regulating RDS, OSHA's fall protection rules regulate workers on the roof surface. This means the designer not only needs to plan anchorages for multiple workers using RDS simultaneously suspended on the side of a building like the above picture, but also needs to consider fall protection to allow those workers safe approach to anchorages used for RDS. See comprehensive list of possible applicable standards and regulations below.
Conclusion: Designers need to keep anchorages in line with a worker's anticipated point of suspension when using an RDS and directly above or perpendicular to the worker(s) on a suspended platform. Thus, the designer should endeavor to minimize the tie-back angle to reduce the risk to workers using the anchorages.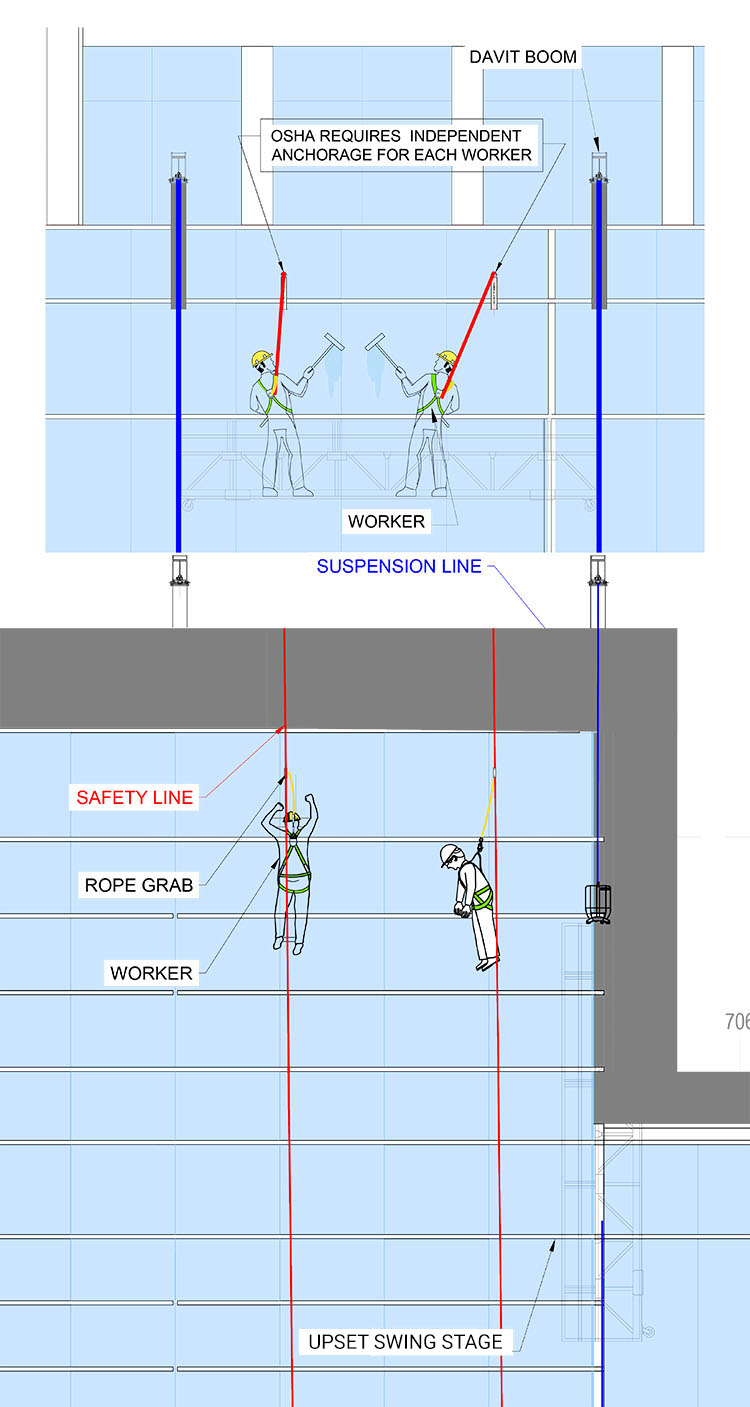 Note: The I.14 Section for Fall Arrest Systems for Suspended Scaffolding states that the lifeline of the system shall always be anchored in-line (within 15 degrees of perpendicular) [see appendix] with the suspended worker or platform. The appendix reference says that anchors are to be placed in line with the suspended worker and may be offset no more than 15 degrees if impracticable.
Tie-Back Reference Guide
≤ 15-degree tie-off: Marginal but Acceptable by I.14 Standards.
≤ 10-degree tie-off: Good Practice
≤ 5 -1 degrees tie-off: Better Practice
0 degrees (Perpendicular Best Practice)
See Summit Anchor's previous posts entitled Fall Protection by Design Parts I, II, III & IV for discussion on fall protection when approaching roof edges.
Anchorage layout planning for RDS and fall protection is a highly specialized skill. This Anchor Layout Guide provides technical guidance to qualified designers. This guide shouldn't be used as a sole source of design, and designs must be reviewed and approved by a qualified person as defined by OSHA.
The International Building Code (IBC) as application to jurisdiction
ASME A120 Safety Requirements for Powered Platforms and Traveling Ladders and Gantries for Building Maintenance
OSHA Subpart D Walking and Working Surfaces and other OSHA related regulations and interpretation letters
ANSI Z459 Safety Requirements for Rope Access Systems
ANSI Z359 Fall Protection Code Package
Cal/OSHA Article 5 (California)
NYDL Title 12 (New York)
CONTACT US.

Whether your project is in Athens, Greece or Anchorage, Alaska, or all points in between, we are your full service fall protection provider.
Call Summit Anchor Company today to speak with one of our representatives.