Get it Right the First Time —
Fall Protection by Design
Eliminates Risk from the Start
Using Davits for Powered Platforms and Rope Descent Systems
By Gus Strats – Summit Anchor Company, Inc. June 9th, 2022
Edited by – Keisha Winston
Background, most of the window cleaning performed in the USA on mid to high-rise buildings is by rope access systems or rope descent systems (RDS). Typically, workers would simply tie-back their ropes to anchors on the roof, laying their ropes over the top of a parapet before descending. This kind of rigging requires that the anchorages, parapets, and other building features such as sunscreens support the loads imposed from workers ropes,
see Fig. #1.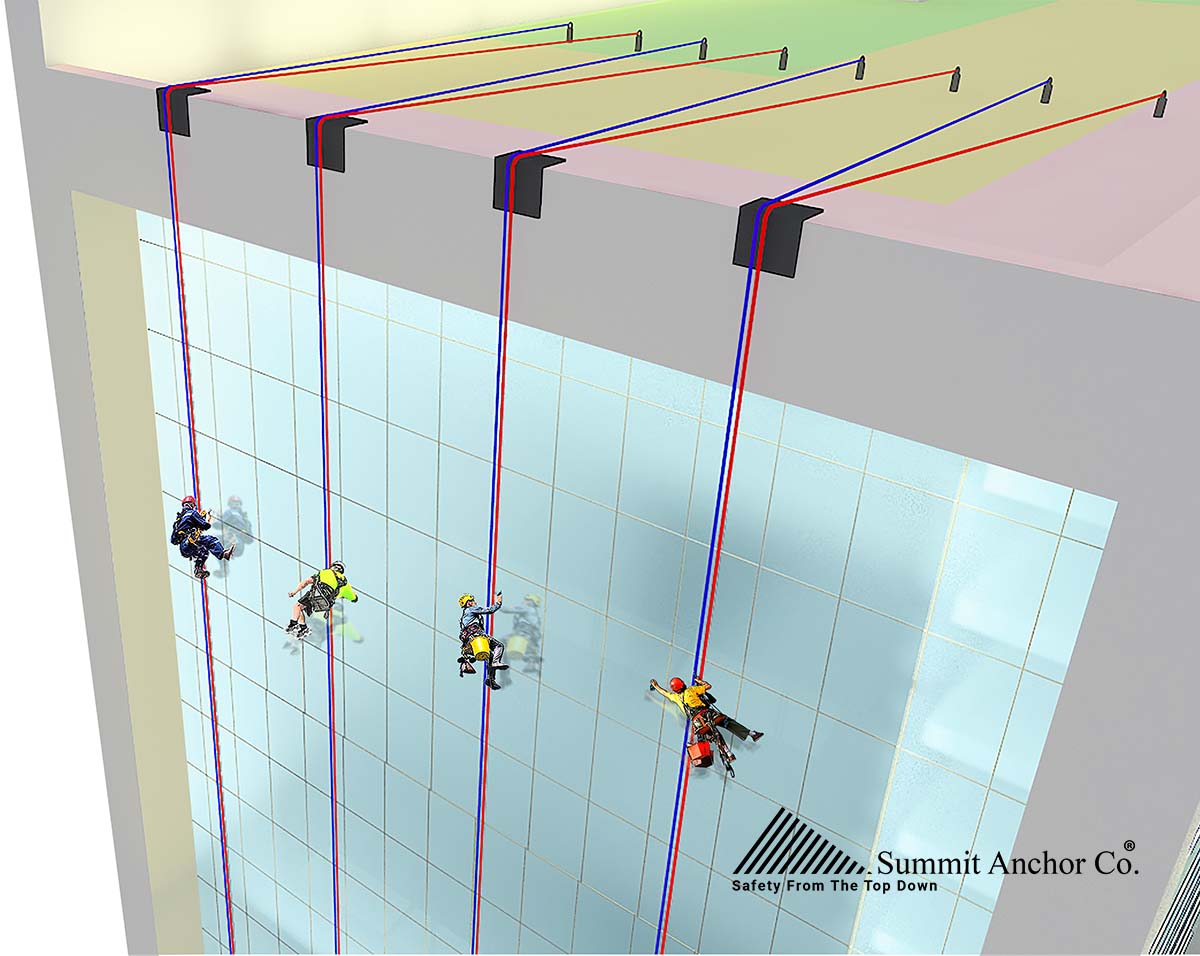 Fig. #1 Worker(s) using a Davit system for Rope descent

When, building features like glass guardrails and sunscreens are not designed for the direct loading of workers lines, workers lines need to circumvent these building features to avoid damaging them. One way to accomplish this is with a davit system which allow the workers lines to be suspended above and outboard from the glass guardrail or other building feature, see Fig. #2.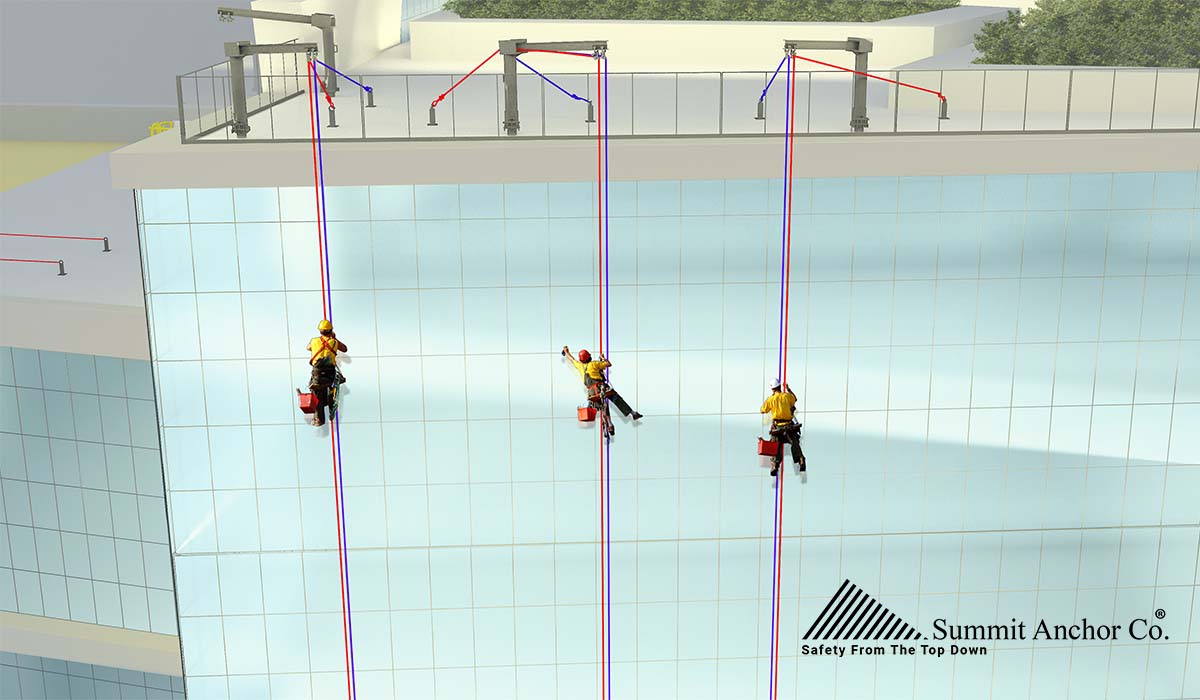 Fig. #2 Worker(s) Using a Davit System

An advantage of designing a davit system for RDS workers is that davits may also be used for major maintenance or construction projects like glass replacement with a powered platform. A building owner can save money by equipping his building with a davit system, for both RDS, and powered platforms Fig. #3. Over the life of the building, investing in a davit system will pay off: Less man hours will be spent on heavier maintenance work by workers using a suspended powered platform facilitated with a good davit system.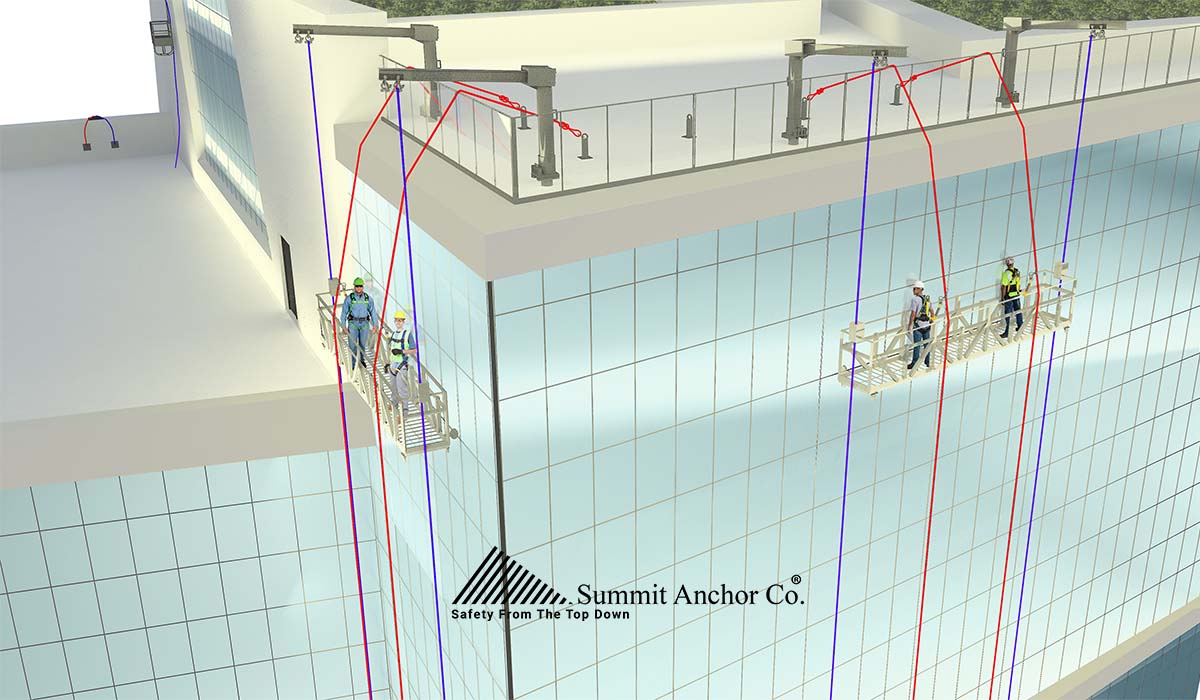 Fig. #3 Layout of a Davit system for swing stage

NOTE: Guardrails and parapets must be capable of supporting impact loads from workers lines without collapsing.
Summit's Davit arms rotate 360 degrees allowing workers flexibility of setting up their equipment on the rooftop and then swing out over the parapet wall to various points along the radius of the davit booms rotation. See Fig. #4.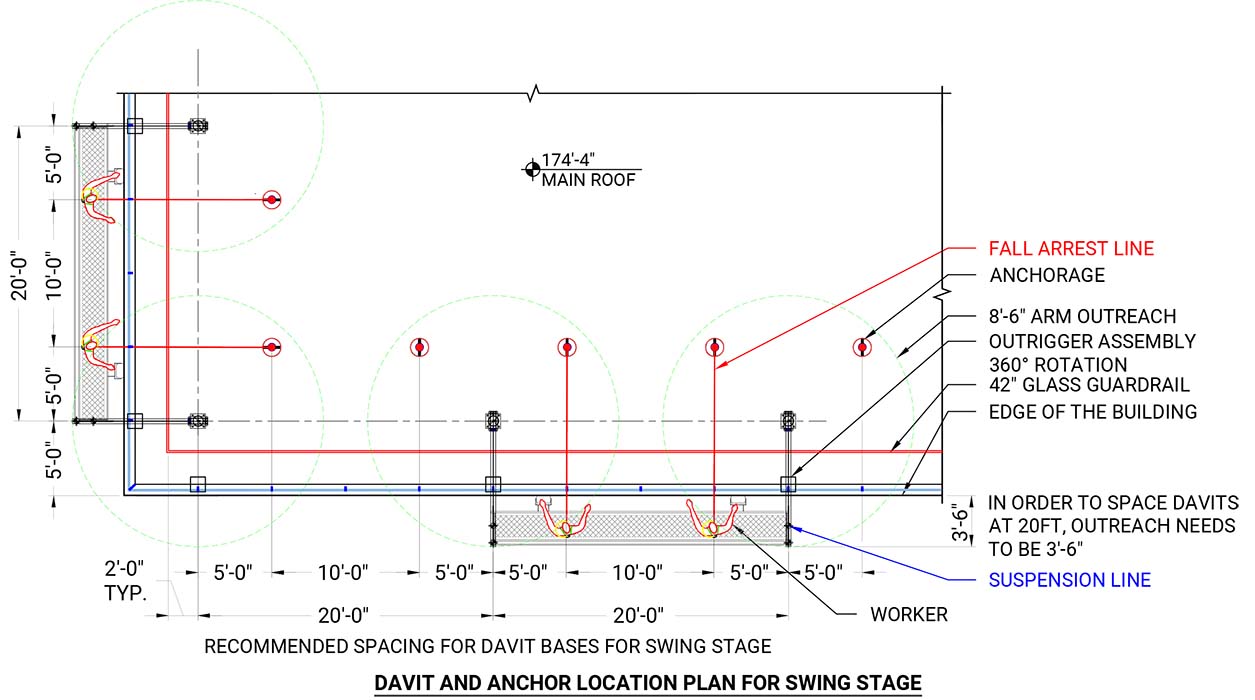 Above, Fig. #4: Layout of a Davit system for swing stage and
Fig. #5 same Layout as Fig. 4  for rope descent system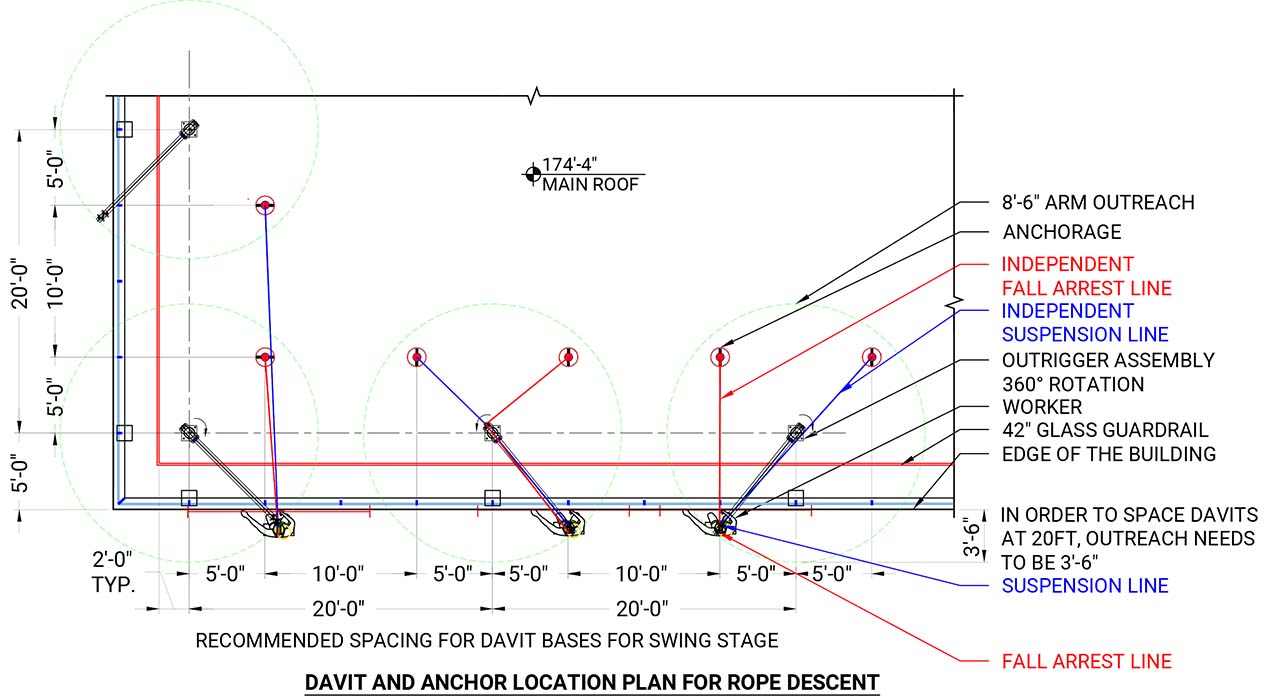 How to layout davits with anchorages for rope descent systems.

RDS workers require 2 independent anchorages, at minimal tie-back angles, to comply with OSHA requirements. OSHA says: "When an anchorage is not perpendicular to the building face, it may be necessary for worker safety to install opposing tiebacks to support and firmly secure the RDS…" with the conditions met as follows:
"Have a least a 30-degree sag for opposing tiebacks"
"No angle exists on single tieback"
What is the 15-degree rule that designers should consider for anchorages used in conjunction with davits?

The term '15-degree rule' is misleading.
Locating anchorages in-line with the intended location of descent is best. The 2001 ANSI/IWCA l.14 Window Cleaning Safety Standard stipulates for new construction by stating, "Anchorages should be placed in-line to the work area to prevent displacement of lines under load and/or a fall greater than 6 feet."
Design for existing buildings. The l.14 says that anchors should be placed in-line with the suspended worker. Where this is impracticable, anchors may be offset no more than 15 degrees from in line. (perpendicular) provided displacement of the rope under the load can be prevented. The l.14 emphasizes that worker safety is of utmost importance when designing an anchor system to be installed on an existing building.
Based on our experience, locating anchors in line is easily done on concrete buildings for both new construction and existing buildings and may not pose a significant cost increase. Locating anchorages in line on existing steel frame buildings can be expensive because of additional bracing required to support the loads from the anchorages.
CONTACT US.

Whether your project is in Athens, Greece or Anchorage, Alaska, or all points in between, we are your full service fall protection provider.
Call Summit Anchor Company today to speak with one of our representatives.